Bucky Larson: Born to Be a Star
(2011)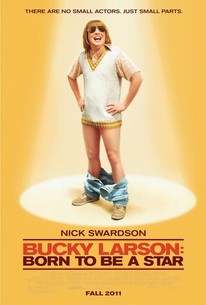 Bucky Larson: Born to Be a Star Photos
Movie Info
Bucky Larson: Born to Be a Star is a new comedy starring Nick Swardson, Christina Ricci, Don Johnson, and Stephen Dorff. Bucky (Swardson) is a small town grocery bagger, going nowhere in life - until he discovers that his conservative parents were once adult film stars! Armed with the belief that he has found his destiny, Bucky packs up and heads out to LA, hoping to follow in his parents' footsteps. -- (C) Sony Pictures
News & Interviews for Bucky Larson: Born to Be a Star
Critic Reviews for Bucky Larson: Born to Be a Star
Audience Reviews for Bucky Larson: Born to Be a Star
MisterYoda ?
Super Reviewer
DID YOU EAT ONE OF MY GRAPES?!
Matt Goodman
Super Reviewer
½
Okay, I'll admit, there were a few scenes in "Bucky Larson: Born To Be A Star" that had me laughing out loud, but mostly it was because of how stupid the movie is. I have never seen a movie try so hard to make a story work before. So an idiot with over-exagerrated buck teeth tries to become a porn star with his parents. The comedy is that he has a small penis, which makes his very popular. Funny right? No, it's not funny at all, but for some reason, some of the secondary characters in the film seem very funny at times, particularly Kevin Nealon, who puts a roof over Bucky's head. That being said, this film is in no way funny and it is easily one of the worst of 2011. Every joke that the filmmakers force on you seems like a penis joke every 20 minutes, followed by someone making fun of his buck teeth. Cristina Ricci helps to hold whatever is left of the movie, on it's feet. This film is a great big pile of garbage that made me laugh once or twice!
Bucky Larson: Born to Be a Star Quotes
There are no approved quotes yet for this movie.