Buck
(2011)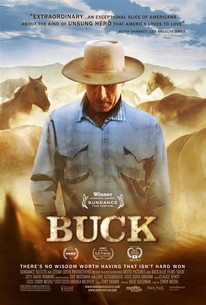 Movie Info
"Your horse is a mirror to your soul, and sometimes you may not like what you see. Sometimes, you will." So says Buck Brannaman, a true American cowboy and sage on horseback who travels the country for nine grueling months a year helping horses with people problems. BUCK, a richly textured and visually stunning film, follows Brannaman from his abusive childhood to his phenomenally successful approach to horses. A real life "horse-whisperer", he eschews the violence of his upbringing and teaches people to communicate with horses through leadership and sensitivity, not punishment. Buck possesses near magical abilities as he dramatically transforms horses - and people - with his understanding, compassion and respect. In this film, the animal-human relationship becomes a metaphor for facing the daily challenges of life. A truly American story about an unsung hero, Buck is about an ordinary man who has made an extraordinary life despite tremendous odds. -- (C) IFC Films
News & Interviews for Buck
Audience Reviews for Buck
½
While not exactly the most substantial of documentaries, "Buck" still has plenty to say about the human condition, through horses, no less. As Buck Brannaman says in the clinics he conducts all over the country nine months out of the year, it is not the humans with a horse problem he is trying to help but horses with a human problem. Growing up, he and his brother were severely phyiscally abused by their father. With luck and the help of caring foster parents, Buck turned out okay and sensitive to the concerns of others and the odd episode of Oprah.(I had to check out the deleted scenes on the DVD to find out how Buck's brother turned out.) As a parent, Buck feels it is okay to discipline one's children but only in an encouraging, not discouraging way. As alone as he is a lot on the road, he looks forward to returning home to his family, with his eldest daughter, Reata, now joining him for the summer.
½
Sometimes people's stories are just leaps and bounds better than anything Hollywood could produce. This doc is a mesmerizing and heart-warming look at a good and gentle man who took the pain of his childhood and turned it into grace. It may sound cliche and boring, but I'll be damned it you can watch it and not be moved.
½
This documentary reveals the power of firm tenderness and trust -- not just with horses, but with people too.
Matthew Slaven
Super Reviewer
Buck Quotes
There are no approved quotes yet for this movie.