Bruiser
(2000)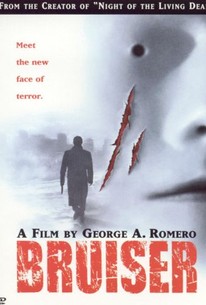 Movie Info
Horror-meister George Romero directs this thriller about a 99-pound weakling who strikes back at everyone who has wronged him in the past. Henry Creedlow (Jason Flemyng) works at a fashion mag called Bruiser for the short-fused, dictatorial Miles Styles (Peter Stormare). Henry spends much of his day fantasizing about killing himself and killing others, particularly his nagging wife Janine (Nina Garbiras). After learning that Miles is shagging his wife and that his stockbroker best friend swindled him out of a stack of money, Henry wakes up the following day to learn that his face has mysteriously been rendered white and featureless. Soon, like a mime with bloodlust, Henry violently dispatches with everyone in his life, save Miles' wife, whose paintings may be responsible for his sudden transformation. This film was screened at the 2000 Berlin Film Festival.
Critic Reviews for Bruiser
Audience Reviews for Bruiser
George Romero has been responsible for some of the greatest horror films of all time (Night of the Living Dead among others), and some that are more misunderstood (Season of the Witch, Monkey shines). "Bruiser", clearly falls in the latter category, which is not to say its a bad movie, but that the "theme" of the film is what to watch for, not necessarily the film itself. "Bruiser" isn't a who-dunnit horror film where the audience has to guess the serial killer, or said killer's reasons for murder, nor is it a suspense thriller with the police on the hunt of an elusive genius who happens to be a murderous psychopath. "Bruiser" makes its plot and killer clear from the beginning: Henry is a man who is unable to stand up for himself, and is taken advantage of and ignored by everyone he knows, from his wife having an affair with his boss, to his best friend, who he finds out is stealing thousands from him. He entertains thoughts of murderous revenge and even suicide, but realizes he can never act upon them. One day, he wakes up to discover that his identity has literally disappeared, his face replaced with a pale, blank white mask. He uses his new identity (or more accurately, lack thereof) to take the vengeance he has always dreamed of on all those who have hurt him. The reason the film works so well is because Henry's situation is one we can all understand. Whether at work, school, or otherwise, there is always someone like Henry, someone who works hard and tries his hardest to be kind and polite to everyone, but is totally ignored and passed up for promotions, invitations to parties, etc. Instead of taking the time to properly recognize that kindness, it is simply exploited, and this exploitation of the kind is unofficially encouraged in modern corporate America. Henry's loss of identity and kind soul to backstabbing family and friends is a true occurrence experienced by many everyday, and its a gratifying feeling to see Henry, unlike the rest of them, get a chance to finally assert himself through his apparent invisibility, even if it is through murder. He is the ultimate antihero, a murderer whose actions are arguably justified, violently poetic in response to constant suffocation; there are some who would repeat such actions if given the chance (are you one of them?). The fact that it isn't a straight horror or thriller film, along with its less-than-subtle commentary on American society, may turn off a lot of people, but it is well directed and competently acted (it doesn't feature any stand-out portrayals; maybe Henry's Euro-Trash boss is a little too annoying), although the finale is so silly that it almost ruins the whole ordeal. The haunting beauty of Henry waking to see his new face for the first time is enough to show that, though he has evolved past some fans' tastes, Romero still has it in him.
David Ladd
Super Reviewer
George A. Romero makes good movies, right? Zombie movies anyway, this one sucked. The only cool part was how freaky his mask looked, and that he imagined holding a womans head down on a train track for cutting in front of him. Otherwise it made no sense, except that it was some sort of metaphor for his face becoming a blank slate and colored as he killed people. But since it was actually happening it was dumb.
Curtis Lilly
Super Reviewer
Not his best, but an interesting flick none-the-less.
Tim Salmons
Super Reviewer
Bruiser Quotes
There are no approved quotes yet for this movie.