Broken Rainbow
(1985)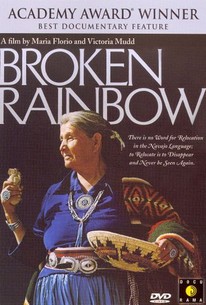 AUDIENCE SCORE
Critic Consensus: No consensus yet.
Movie Info
In 1983, Interior Secretary James Watt sold coal leases at unusually low prices to developers in New Mexico, and hundreds of Navajo families were torn from their homes and displaced to other areas. The tragedy of this occurrence and the lack of humanity or even minimal human understanding of the plight of the displaced Navajo is the topic of this moving documentary. This story barely surfaced on the U.S. national news before it was forgotten. As noted in the documentary, there is a long history of injustice and neglect on the part of a U.S. bureaucracy that seems only to respond to public pressure in correcting its transgressions against the Navajo.
Critic Reviews for Broken Rainbow
All Critics (3) | Top Critics (2) | Fresh (2) | Rotten (1)
If a documentary cannot convince us of its basic journalistic accuracy, then it is just opinion and polemic, and the material might have been treated more effectively as fiction.

The Navajo case, as presented here, is forceful enough not to require foolish embellishment.
Dispelling any thoughts that the Indians should ever expect to get a fair-deal from the federal government.
Audience Reviews for Broken Rainbow
½
This documentary chronicles the numerous broken treaties that have crushed Native American culture and destroyed their homeland. First, I guess I have to say that I agree with this film's thesis: the U.S. government has fucked over the Native Americans and we as Americans are complicit in anti-Native injustices. That said, this film sucks. Its presentation of this thesis is bland, repetitive, and maudlin with a repeating song that might as well be a broken record over the broken rainbow. Overall, agreeing with a film isn't all it takes to make a good film.
Jim Hunter
Super Reviewer
½
Oh, I remember this one!!
Broken Rainbow Quotes
There are no approved quotes yet for this movie.