Broken English
(2007)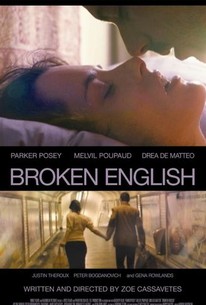 TOMATOMETER
AUDIENCE SCORE
Critic Consensus: Though Broken English eventually settles into basic rom-com territory, it's pleasant and good-natured, and Parker Posey is spellbinding throughout the movie.
Movie Info
A single thirtysomething whose friends all seem to be romantically involved, happily married, or with child meets an eccentric Frenchman who shows her just what an amazing place the world can truly be in director Zoe Cassavetes' entry into the 2007 Sundance Film Festival. As if it wasn't depressing enough to be 35 and still single, Nora (Parker Posey) is constantly reminded by her loving but tactless mother (Gena Rowlands) just how unlucky she has been in love. Though Nora longs to enter into a blissful union like the one of her best friend, Audrey (Drea de Matteo), she finds that the dating pool just isn't what it used to be. Things soon begin to look up, however, when Nora makes the acquaintance of handsome Frenchman Julian (Melvil Poupaud). While the two share an instant chemistry that is undeniable, Nora is saddened to learn that Julian will soon be departing for his native soil. When Julian does depart, Nora laments the fact that she wasn't able to express her feelings more effectively. If only Nora could organize her scattered thoughts long enough to remember her love object's last name, she might not have to go searching out every "Julian" in Paris to locate the man of her dreams. ~ Jason Buchanan, Rovi
News & Interviews for Broken English
Critic Reviews for Broken English
Audience Reviews for Broken English
A desperately lonely (not my words; hers: "I'm embarrassed at my own desperation") woman fails to find love in NYC so she follows a man to Paris. This is a spoiler review because the biggest problems with this film are in the third act. Parker Posey plays Nora Wilder, who is much like the lead in most romantic comedies or romantic dramas. She hates her job and finds nothing but jerks and weirdos in the dating world. She even has the best friend who doesn't seem to have a life of her own, which is almost a cliche in this genre. But the film's strength is its strategic defying of romance cliches. In the third act the best friend, whose troubled marriage until now only served as a backdrop for her scenes with Nora, breaks down in the bathroom, and we quickly realize that she cheated on her husband. Likewise, Nora quits her job, and normally, she would quickly find her calling a la 500 Days of Summer, but instead her desperate search for love irrationally carries her to Paris. The film's problem occurs when she finally meets the object of her affection on the way to the airport. He basically drags her out of the train, and the film ends with her willingness to miss the flight back home for him. I understand that the film is trying to problematize all the myths romantic movies shove down our throats; after all, not all break ups lead to a sudden realization of one's independence and life goals. The film seems to say that there are no easy answers where love is concerned. However, the over-bearing nature of Julien's seizure of Nora and her all-too-willing, wistful acceptance of his dominance make us wonder how we're supposed to feel about the film's end. I want to say to the film, "I know there are no easy answers, but what are yours? And if not yours, then what are Nora's?" In the end, these questions seem too elemental to the film's center to remain unanswered. Overall, Broken English features an excellent performance by Parker Posey, but it's stuck in a film that is being deliberately obscure in all the wrong ways.
Jim Hunter
Super Reviewer
I hesitate to call this a "romantic comedy" as the acting is far too solid to justify the stigma that (in my mind) comes with that moniker, even though the story line itself is predictable enough to warrant that categorization. It is in fact very romantic, in a pretty realistic way. And it is also fairly ammusing in it's painfully truthful accurate portrayal of "single life after 30". Which (I believe) tends to be more of a concern for women then it is for men. I have to say Parker Possey does an amazing job here and really gets to show her acting chops. And Drea de Matteo is perfect as her best friend. Very impressive work from both of them. So if you are in the mood for a really good (in not a bit predictable) "romantic comedy"...this is a good choice.
Leigh Ryan
Super Reviewer
Broken English Quotes
There are no approved quotes yet for this movie.