Broken Embraces
(2009)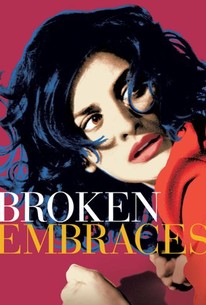 TOMATOMETER
AUDIENCE SCORE
Critic Consensus: Pedro Almodovar's fourth film with Penélope Cruz isn't his finest work, but he brings his signature visual brilliance to this noirish tale, and the cast turns in some first-class performances.
Movie Info
A follow-up to Spanish enfant terrible Pedro Almodóvar's 2006 arthouse sensation Volver, Los Abrazos Rotos finds the filmmaker re-teaming with actress Penélope Cruz and working on a canvas much broader than those of his previous outings, in terms of genres covered, narrative scope, and duration. Lluís Homar stars as the former Mateo Blanco, a screenwriter and ex-director who changed his name to Harry Caine after losing his sight in an automobile accident. A past scandal suddenly resurfaces when the news arrives that the producer of one of Harry's old movies ("Girls and Suitcases"), a corrupt stockbroker named Ernesto Martel (José Luis Gómez), has died. For mysterious reasons, this makes Harry's ex-production manager Judit (Blanca Portillo) nervous; then Ernesto's son, Ray X (Rubén Ochandiano), turns up and asks Harry to help him write a vindictive script to get back at his vile father. The film subsequently flashes back to the early '90s, when Martel became involved with his secretary, Lena (Cruz), but Mateo also began to develop feelings for her, and auditioned her for "Girls and Suitcases." In response to Mateo's interest in Lena (and her burgeoning interest in him), the jealous Martel commissioned Ray to make a documentary about the making of "Girls and Suitcases" as an excuse to spy on the director and star. This enabled him to watch Mateo spiriting off with Lena right under his nose, and set the stage for the wily producer's elaborate revenge against Mateo. As this synopsis suggests, Almodóvar uses a tricky structure laden with flashbacks to both comment on and explain the events of the present; he also interweaves a noirish sensibility throughout the picture that marks something of a first for this director. ~ Nathan Southern, Rovi
News & Interviews for Broken Embraces
Critic Reviews for Broken Embraces
Audience Reviews for Broken Embraces
A pretentious and ridiculously self-aggrandizing melodrama that feels like an empty excuse to explore the beauty of Almodóvar's muse Penélope Cruz with his camera - and that unwelcome self-reference to one of his classic films is not only unfunny but a complete embarrassment.
Carlos Magalhães
Super Reviewer
Slow to start, but a powerful finish. Incredible storytelling, subtle direction, and absorbing acting, easy choice if you're in the mood for Artistic+Foreign. Looking forward to watching Volver...
Jason Robinson
Super Reviewer
½
Standard fare for Almodovar. And I dont mean that in a negative way. This man coasting is still leaps and bounds more fascinating than the pet projects of many directors. It is hyper-sexual, highly-stylized, and has melodrama oozing out of every pore. The production is regal and elegant, with brilliant colors bursting on screen while characters do their best to control the mess that their elicit passions have made. While it may not carry the same weight as Talk to Her or All About My Mother, it is an entertaining story told richly by one of the world's premiere filmmakers.
Broken Embraces Quotes
There are no approved quotes yet for this movie.