Broken City
(2013)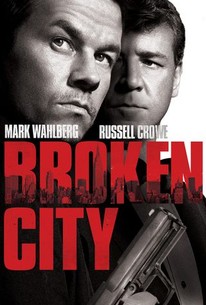 TOMATOMETER
AUDIENCE SCORE
Critic Consensus: Broken City's thinly sketched, formulaic script offers meager rewards for all but the least demanding noir aficionados.
Movie Info
In a broken city rife with injustice, ex-cop Billy Taggart (Mark Wahlberg) seeks redemption and revenge after being double-crossed and then framed by its most powerful figure, the mayor (Russell Crowe). Billy's relentless pursuit of justice, matched only by his streetwise toughness, makes him an unstoppable force and the mayor's worst nightmare. (c) Fox
News & Interviews for Broken City
Critic Reviews for Broken City
Audience Reviews for Broken City
Nothing special. Note to Russell...don't sign for a movie with Mark Wahlberg in it. It will bring you down...
Cynthia S.
Super Reviewer
½
Directed by one half of the Hughes Brothers, this is the story of one man's shot at redemption and revenge in the wake of corruption treachery. It had a lot of promise, but unfortunately doesn't have a lot to offer. It's like a really slick half baked take on Chinatown, but without the guts, intelligence, or skill. Don't get me wrong, there's some talented people involved here, but they just seem to be coasting along on auto pilot, and it shows. The film has a few good moments, but overall proves to be largely unremarkable and run of the mill. See it if you want, but you would probably be better off watching something else.
Chris Weber
Super Reviewer
Entertaining but very flawed political thriller about a private eye (Mark Wahlberg) who was thrown off the NYC police force but gets a major job when the Mayor (Russell Crowe) asks him to find out who his wife (Catherine Zeta-Jones) is messing around with. This case is rather easy for the man but soon he realizes that this is just the start of dirty business. BROKEN CITY, as a thriller, really doesn't work because the plot is rather silly. It's especially silly if you start to think about it too long and that's why it's best to just walk into the theater, turn your brain off and enjoy the excellent cast that's offered up here. It's always amazing to see how many great actors they can get for less-than-stellar material but the three leads are excellent as are Jeffrey Wright, Barry Pepper and Alona Tal. The performances are certainly the reason to check this film out as they help keep the film moving along no matter how many twists and turns get thrown at us. Wahlberg is once again a lot of fun playing the tough guy and has no problem with this. Crowe appears to be having fun with the less than serious role and Zeta-Jones gets a couple nice scenes along the way. I thought Pepper is the one who really stood out playing the man going up against Crowe's character in the upcoming election. Tal was also a breathe of fresh air when she's on screen. An almost unrecognizable Griffin Dunne also plays a supporting part. Director Allen Hughes does a nice job at keeping the film moving at a nice pace but there's still no question that the material just isn't all that strong. I'm not sure if there were countless re-writes or not but the screenplay pretty much hits on every cliché that this lower-quality political thrillers do. The twists and turns aren't all that shocking and neither is the ending. Still, BROKEN CITY remains enjoyable thanks to the cast. 4 Stars 5-21-13
Bruce Bruce
Super Reviewer
Broken City Quotes
There are no approved quotes yet for this movie.