Broken City
(2013)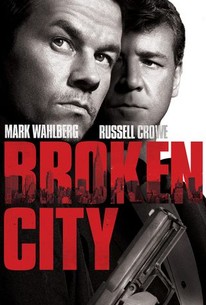 TOMATOMETER
AUDIENCE SCORE
Critic Consensus: Broken City's thinly sketched, formulaic script offers meager rewards for all but the least demanding noir aficionados.
Movie Info
In a broken city rife with injustice, ex-cop Billy Taggart (Mark Wahlberg) seeks redemption and revenge after being double-crossed and then framed by its most powerful figure, the mayor (Russell Crowe). Billy's relentless pursuit of justice, matched only by his streetwise toughness, makes him an unstoppable force and the mayor's worst nightmare. (c) Fox
News & Interviews for Broken City
Critic Reviews for Broken City
Audience Reviews for Broken City
Nothing special. Note to Russell...don't sign for a movie with Mark Wahlberg in it. It will bring you down...
Cynthia S.
Super Reviewer
½
Directed by one half of the Hughes Brothers, this is the story of one man's shot at redemption and revenge in the wake of corruption treachery. It had a lot of promise, but unfortunately doesn't have a lot to offer. It's like a really slick half baked take on Chinatown, but without the guts, intelligence, or skill. Don't get me wrong, there's some talented people involved here, but they just seem to be coasting along on auto pilot, and it shows. The film has a few good moments, but overall proves to be largely unremarkable and run of the mill. See it if you want, but you would probably be better off watching something else.
Chris Weber
Super Reviewer
Ever since I saw the first trailer for this I've thought "man that looks like a damn good movie". "Mark Wahlberg and Russell Crowe, this should be pretty good." Well, my expectations were way too high, and I should have stayed away from the trailer. This is one of those movies where if you've seen the theatrical trailer, then you pretty much know the entire movie, except maybe one or two little twists that aren't anything major. The basic premise is a cop(Wahlberg) gets off for murder and has to leave the force and become a Private Investigator. One day out of the blue the man who got him off, the mayor(Crowe), calls him up for a job. Find out who is sleeping with his wife(Catherine Zeta Jones). But things aren't always so simple, and from there this becomes a just OK political type thriller. All the actors do decent, not their best, but they do ok. But the story is kind of bland, and having seen the trailer, I was left with a feeling of "that's it?" This is an OK rental, at best, just keep expectations low and go in knowing as little as possible. But, even then it's still probably just an alright movie that hovers around average.
Everett Johnson
Super Reviewer
Broken City Quotes
There are no approved quotes yet for this movie.