The Broadway Melody
(1929)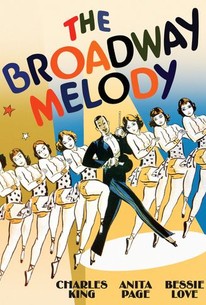 TOMATOMETER
AUDIENCE SCORE
Critic Consensus: The Broadway Melody is interesting as an example of an early Hollywood musical, but otherwise, it's essentially bereft of appeal for modern audiences.
The Broadway Melody Photos
Movie Info
This landmark MGM backstage musical of the early sound era about broken dreams on the Great White Way features a bevy of standards by the songwriting team of Arthur Freed and Nacio Herb Brown. Freed later became unit producer of the legendary Freed Unit at MGM, which is the reason many of the tunes from Broadway Melody --""You Were Meant For Me"", "Broadway Melody", ""The Wedding of the Painted Doll""-- later appeared in Freed's seminal MGM musical Singin' in the Rain. The nominal story concerns midwestern sister act The Mahoney Sisters --Queenie (Anita Page) and Hank (Bessie Love)-- who come to New York to try to make it big on Broadway. Hank's song-and-dance man boyfriend Eddie (Charles King) has promised the gals a part in the new Broadway revue in which he is soon to appear. When Hank and Queenie come to see him, Hank is pleasantly surprised at the way Queenie has filled out. Soon enough, Eddie is making advances to Queenie. Queenie is attracted to Eddie too, but she doesn't want to steal her sister's boyfriend. So she Queenie takes up with a lecherous playboy, leaving it to Hank to put all the confused love relationships in perspective. ~Rovi
News & Interviews for The Broadway Melody
Critic Reviews for The Broadway Melody
Audience Reviews for The Broadway Melody
½
Rotten Tomatoes has an error in its database. They have two films confused. "The Broadway Melody" was released in 1929 and won Best Picture at the 2nd Academy Awards ceremony. Director Harry Beaumont and Lead Actress Bessie Love also were nominated for Oscars but lost. The film was so successful that something of a franchise developed, with three films in the next decade borrowing the title. For example, in 1935, "The Broadway Melody of 1936" was released, directed by Roy Del Ruth and starring Jack Benny and Eleanor Powell. It was nominated for a Best Picture Oscar but lost to "Mutiny on the Bounty." Somehow the folks overseeing the RT database have gotten these two films confused. The entry for the 1929 film says that it was released in 1935 and contains a blurb about the 1935 film. Below is a review of the 1929 film called "The Broadway Melody" directed by Harry Beaumont. "The Broadway Melody" is a joy to rediscover. It is amazing (and depressing) that it has failed to maintain a reputation. But then again, how many films from the 1920s have been remembered? Americans born after World War II seem to have no interest in films made before their time. The land of the eternal present. But some films have maintained a reputation: "The Wizard of Oz" and "Gone With the Wind," for example. Some old Bette Davis and Humphrey Bogart films would be recognizable to present-day audiences also. The vast majority of worthy films, however, have been forgotten. "The Broadway Melody" is a perfect example. I think almost anyone would enjoy this film, if they got over their prejudice against old movies and just watched what was on the screen. Bessie Love's performance is so good that it still jumps off the screen. Her Oscar nomination was well deserved. (She lost to Mary Pickford). But just like the film itself, Ms. Love has been completely forgotten, despite the fact that she continued to work in film into her 80s. Love plays a woman who moves to New York with her sister in hopes of making it on Broadway. Initially you think it's going to be schmaltzy, like movie musicals tended to be in the 1930s. But this film has a heavy side, and it wrestles with class issues in quite a blunt way. Love's sister, for example, gets seduced by a wealthy predator in a way that is truly frightening. There are also bold insinuations of infidelity on the part of Love's fiancé. After all this sadness, Love has a breakdown on screen that goes on for several heart-breaking minutes. The songs may be all sunny and light. But "The Broadway Melody" demonstrates in an admirably frank way, in a genuinely artistic way, that Broadway's sunniness often stems from a desperate attempt to PRETEND that life is grand. Unfortunately, the film doesn't go quite to the depth that it could have, thus it doesn't deserve much more than a 7 rating. But this is still one of the better films of the early sound era and should be seen by more cinephiles today. Thank you to Warner Brothers for keeping this film alive by pressing it on DVD (a beautifully clear copy, incidentally), and thank you to Netflix for buying the DVD and making it available for rent. On behalf of the dozen or so Americans who appreciate cinema history, I thank you.
William Dunmyer
Super Reviewer
½
Boy, this film sure hasn't aged well. Granted, it is over 80 years old, but still. The story here concerns two sisters who are a part of a show on Broadway that get into a love triangle with a guy. I'm not sure, but I think this kinda of story line was old even back then. This is really not all that great, but it's not terrible. The music is okay, and the dance sequences are all right I guess, but the stroy is really not all that interesting. Plus, it's all very melodramatic. However, this film came out during the transition period from silent films to "talkies", and many films back then were really clumsy and pretty bad. What makes the film notable is its historic importance- it was a "pre-Code" film, so some of the content, though nothing new to modern audiences, was rather bold for back then. Also, it was the second film to win the Oscar for Best Picture, and the first sound film and first musical to take home that prize. This may be an earlier movie musical, but that doesn't mean that it's the best because of it. Many of the films of this type that came after are far better, but as a curiousity piece, this is worth a watch if you are a die hard. If you don't care for this sort of thing, then the only reason I would recommend it is if, like me, you are on a quest to see all the films that won Best Picture.
Chris Weber
Super Reviewer
Jennifer Xu
Super Reviewer
The Broadway Melody Quotes
There are no approved quotes yet for this movie.