Bring Me the Head of Alfredo Garcia
(1974)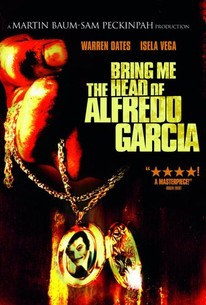 Bring Me the Head of Alfredo Garcia Photos
Movie Info
An American bartender and his prostitute girlfriend go on a road trip through the Mexican underworld to collect a $1 million bounty on the head of a dead gigolo.
Critic Reviews for Bring Me the Head of Alfredo Garcia
Audience Reviews for Bring Me the Head of Alfredo Garcia
Sam Peckinpah's films have always been an intense experience to watch. His style was unmatched by any other filmmaker. The main reason here is the fact that his films have striking images that stick with you. His style has been lauded and dismissed, but you simply cannot deny the power his films have. Bring Me the Head of Alfredo Garcia is a brilliant, well acted picture that like his previous outings uses a simple idea with stunning performances and unforgettable imagery to really tell a very good story. The result is an impressive Action thriller that moves at a fast pace, and is highly engaging from start to finish. Although not his greatest film, this is still a well crafted film from Sam Peckinpah and it's definitely worth seeing if you enjoy his work. With a great cast at his disposal, he was able to craft a film that has stood out among his filmography, but like I said, it's not his best either. His finest works are Straw Dogs, The Wild Bunch and The Getaway. However, this is still a picture well worth your time, and there's plenty to enjoy in the film. With effective action scenes mixed with the performances, the film is a taut, thrilling, memorable picture that will surely please fans of Peckinpah's work. The film has a few points that could have been improved upon, but overall, it's a well executed picture that is a top notch action film that will surely please genre fans. Not Peckinpah's finest picture, but very good nonetheless. This is an accomplished picture that boasts some fine direction, a good story and effective performances to really make this a unique film experience. Despite its shortcomings, Bring Me the Head of Alfred Garcia is Thrilling cinema.
Sam Peckinpah's next to last real masterpiece was also the film that nearly destroy his career as one of Hollywood's most maverick filmmakers both personally and professionally. "Bring Me The Head of Alfredo Garcia" was a major flop upon its original release on August 14, 1974. "Alfredo Garcia" was made while the "Straw Dogs" and "The Wild Bunch" director was debilitated by excessive drug usuge and alcoholism. The film's central frank and controversial subject matter of its strong graphic scenes of explicit violence throughout not to mention strong language and brief nudity were perceived as misogyny,but to this day has a strong cult following in one of the risque' films ever made despite given its black comedy and existential storyline that has been duplicated numerous times in many movies. In the most astounding best performance of his career,the great character Warren Oates(who also starred in Peckinpah's "The Wild Bunch",but his resume follows a long list of classics including "In The Heat Of The Night" as one of the most diverse actors of his generation)as an alcoholic piano player who takes his prostitute girlfriend on a road trip through the seedy and dangerous Mexican underworld to collect a huge payday only to be have the titular noggin of the notorious drug lord calling for his reward. Oates and his girlfriend are on the run from the two notorious hencemen(Robert Webber and Gig Young)out to get them not to mention coming to a violent cilmax with the drug lord and the million dollar bounty. Oates literally takes advantage with the head of the dismembered body(in a brown sack) as he seeks vengeance for what he has lost in the quest. It's one of the purest distillations of Peckinpah's nihilistic vision,along with a rare supporting turn from Mexican-American actress Isela Vega as Oates' victimized girlfriend of a prostitute. It may not be out of the best films of 1974,but with some of its action scenes and violent content,it's worth taking a second look.
Mister Caple
Super Reviewer
Only as dark as Peckinpah's own notions of life. This man's tarnished soul is reflected by a superb Warren Oates, his misogyny, a hopeless "Hobbesian" view of society, but also a strong honor code that always leads his characters to attain lost honor by suicidal glory. That raw facade conceals noble motifs, never more evidently than his feelings for the prostitute, Elita. Bloody Sam's most personal, and one of his best.
Pierluigi Puccini
Super Reviewer
Bring Me the Head of Alfredo Garcia Quotes
There are no approved quotes yet for this movie.