Bridget Jones's Baby
(2016)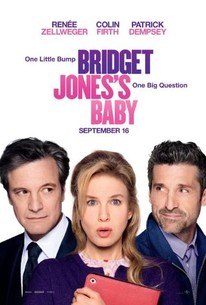 TOMATOMETER
AUDIENCE SCORE
Critic Consensus: Bridget Jones's Baby might be late on arrival, but fans of the series should still find its third installment a bouncing bundle of joy.
Bridget Jones's Baby Videos
Bridget Jones's Baby Photos
Movie Info
Oscar (R) winners Renée Zellweger and Colin Firth are joined by Patrick Dempsey for the next chapter of the world's favorite singleton in Bridget Jones's Baby. Directed by Sharon Maguire (Bridget Jones's Diary), the new film in the beloved comedy series based on creator Helen Fielding's heroine finds Bridget unexpectedly expecting. After breaking up with Mark Darcy (Firth), Bridget Jones's (Zellweger) "happily ever after" hasn't quite gone according to plan. Fortysomething and single again, she decides to focus on her job as top news producer and surround herself with old friends and new. For once, Bridget has everything completely under control. What could possibly go wrong? Then her love life takes a turn and Bridget meets a dashing American named Jack (Dempsey), the suitor who is everything Mr. Darcy is not. In an unlikely twist she finds herself pregnant, but with one hitch...she can only be fifty percent sure of the identity of her baby's father. The much-anticipated third installment of the Bridget Jones's franchise welcomes fellow Academy Award (R) winner Emma Thompson to the cast. Longtime collaborators Tim Bevan and Eric Fellner of Working Title Films produce alongside Debra Hayward. Universal Pictures will distribute Bridget Jones's Baby in North America and select international territories.
News & Interviews for Bridget Jones's Baby
Critic Reviews for Bridget Jones's Baby
Audience Reviews for Bridget Jones's Baby
I don't watch these films but was outvoted when it came to watching a movie last night. The cast is very good and while I hadn't seen the original since the release and while it might be interesting to have some background information it never required it. I think a lot of franchise films can learn something here, you can resurrect a long franchise without reinventing the wheel. Ghostbusters, Total Recall and Robocop rebooted poorly, continuing a franchise is about acknowledgement of the successful films before it and while this isn't a reboot or remake it lets someone come in fresh. The film has a lot of humour but it overstays its welcome around the midway point. This felt like a conclusion to the series, I can't see another film coming to this franchise without ruining a lot of the good work here. 01-07-2017.
Brendan O'Connor
Super Reviewer
Is it just me or are the Brits the best at rom-coms? Maybe that's a stereotype, but when it comes to romantic comedies, and I've seen so damn many of them really, the British have always been a step ahead from their American counterparts. At least how I see it. I will say, at the very least, that Americans are more willing to try and subvert the tropes associated with the genre. It bears repeating that this is from what I have seen again, I'm not suggesting that this is factual or anything of the sort. But when it comes to the more mainstream rom-coms, the Brits are considerably better. I think they're the best at finding just enough of each element to make a good movie. They've got enough comedy, character development and heart to where, even if the movies don't end up being great, they're at least pretty good. This brings us to this movie. I'll be completely honest with you, I haven't seen either of the prior Bridget Jones movies. While I assume that the first one is a good movie, I've bits and pieces of it, the second one didn't have a positive critical reception, to say the least. I'm sure watching the previous movies would give this an added context. Like, for example, in certain scenes you see what Bridget is typing on her laptop on screen. Whenever a word with the letter O in it, that O is substituted for zero. But that's, realistically, a very minor thing. It's not like it actually affects the narrative, it's just a minor little detail. The movie, taking place 13 years after The Edge of Reason, does a good job at sort of filling in the blanks for people who may not have watched the previous movies. Again, it would help as you've had two movies' worth of establishing who Bridget Jones is and what she's like. You also had the established relationship between Darcy and Bridget. The point of it is, that I felt that this was a fairly good rom-com. I'm not gonna say it was better than, say, Love, Actually. Hell, it's not even better than Man Up (with Simon Pegg and Lake Bell). But for what it's aiming to be, and the audience that it's going for, it's a perfectly good movie. I will say that I had some issues with the film, I found it to be somewhat inconsistent. Some of the jokes fall flat on their faces, much like Bridget Jones fell flat on her face into mud, which is when she first meets Mark. The film overcomes it thanks to a really talented and charming cast. I've never been the biggest Renee Zellwegger fan (even if I'll admit that she's a very good actress), but she's great in this role. There's no denying that. Colin Firth is always great. I've never known what to make of Patrick Dempsey, but he's good here. The basic plot is what, I'm assuming, the first two movies were like. Well, I actually doubt that, since, again I assume, the first two movies focused on Darcy and Hugh Grant's character fighting over Bridget's love and affection. Not having seen the prequels, I can't say exactly, but I'm certain that my assumption is fairly accurate. This movie deals more with, duh, Bridget's pregnancy and figuring out who the father of her son is. Having had sex with Mark and Darcy in a relatively short time span (a week), she has no idea who the father is. This is another segment of the film where it just falters. Bridget tries to keep Darcy and Mark a secret from one another, telling each of them that they're definitely the father. While it does lead to some funny moments, I just found that keep Mark and Darcy in the dark about each other led to some pacing issues. Quite frankly, this movie should not have been close to two hours. Perhaps that's not even what I'm saying, but what I am saying is the fact that the Mark/Darcy secrecy angle went a little longer than it should have been. The rest of the film is fine and moves along at a good enough pace. Particularly once Mark and Darcy find out about each other. The story is basic, but it works. Naturally, Mark and Darcy start feuding against each other. And, again, perhaps that's not the way to describe it. It's not like there's many scenes of Darcy and Mark going back and forth. There's a few of them, but not that many. And it's not like Patrick Dempsey is really a match to Colin Firth when it comes to dry wit. Which is why, another assumption, that Hugh Grant was a perfect opponent to Firth. Grant is great as the playboy asshole and Firth is excellent at playing the uptight, serious type. So I'm sure they complimented each other very well. Patrick Dempsey is neither of those here, so that was lame. Let's see, what else can I cover? It's weird, because the movie is at its funniest in third act, even though it's usually not like that. It starts with Bridget, whose water broke, getting stuck in traffic with Darcy on the way to the hospital. Darcy gets down and starts to carry her and walk all the way to the hospital. It's a long walk and this is where the comedy starts. It's certainly silly, but Firth makes it work. Mark joins them halfway through the walk and he helps carry Bridget. Bridget, being pregnant, is obviously too big for him. So they then decide that it's a two-person job and they get her to the hospital. Again, it sounds silly and it is, but it worked in execution. The film is well-written, the characters are likable and the cast is great. Its flaws keep it from being better than just good, but I enjoyed this movie. I'd recommend this if you're a fan. Hell, I'd give this a recommendation even if you're a non-fan. The film does a good job at catching you up. It's not perfect, but it's a fun flick.
Jesse Ortega
Super Reviewer
½
Bridget Jones used to be adorable and charismatic in the first film, but now it can be irritating to see her behave so much like a retard; besides, the movie has a lot of clichés and doesn't manage to be consistently funny, even if it does have its hilarious moments and some charm.
Carlos Magalhães
Super Reviewer
Bridget Jones's Baby Quotes
There are no approved quotes yet for this movie.