The Bridges at Toko-Ri
(1954)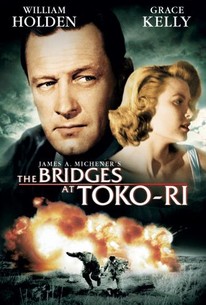 The Bridges at Toko-Ri Photos
Movie Info
Based on a James Michener epic, this provocative and realistic Korean war drama (which contains a strong anti-war message) chronicles the courage of a pilot and his crew as they attempt to fly into North Korean territory and bomb strategically important bridges. Much of the story was filmed on location in Tokyo and on the China Sea. The film earned Oscars for its special effects and film editing.
Critic Reviews for The Bridges at Toko-Ri
Audience Reviews for The Bridges at Toko-Ri
½
A great cast, but a boring war movie. I didn't like it. I'd only recommend seeing this if you really want to see one of the actors in it.
Not a bad film, but a little melodramatic. What makes this film enjoyable is the realistic war footage and William Holden. I really enjoyed all of the scenes on the aircraft carrier and it's daily workings, and the air combat scenes are fantastic and still hold up today. The scenes with Grace Kelly that are off the carrier are too melodramatic and a bit unrealistic. William Holden is great as always and the ending is really strong.
cody franklin
Super Reviewer
½
this is a great film, but it is one of the saddest films i have ever seen. the end is down right depressing as a family man. much of the film felt average at best, but the actual flying sequences were excellent, raising the overall quality of the film. a classic and must watch.
The Bridges at Toko-Ri Quotes
There are no approved quotes yet for this movie.