Brick Mansions
(2014)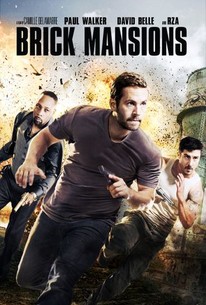 TOMATOMETER
AUDIENCE SCORE
Critic Consensus: Choppily edited and largely bereft of plot, Brick Mansions wastes a likable cast on a pointless remake of the far more entertaining District B13.
Movie Info
In a dystopian Detroit, abandoned brick mansions left from better times now house only the most dangerous criminals. Unable to control the crime, the police constructed a colossal containment wall around this area to protect the rest of the city. For undercover cop Damien Collier (Paul Walker) every day is a battle against corruption. For Lino (David Belle), every day is a fight to live an honest life. Their paths never should have crossed, but when drug kingpin, Tremaine (RZA) kidnaps Lino's girlfriend, Damien reluctantly accepts the help of the fearless ex-convict, and together they must stop a sinister plot to devastate the entire city. With stylized action featuring thrilling Parkour stunts (David Belle is the co-founder of this physical training discipline), Brick Mansions puts an entertaining twist on the action genre. (c) Relativity
News & Interviews for Brick Mansions
Critic Reviews for Brick Mansions
Audience Reviews for Brick Mansions
½
Choppily edited and clumsily directed, this unnecessary remake of the awesome film "District B13" is more depressing than it is entertaining. Being one of Paul Walker's final films, I feel bad that he chose to do this, because he is capable of so much better. This film feels like a mix of parkour and the worst parts of "Fast and Furious," but done even worse. Farfetched action can be fun, but when they are just originary people, you really just do not buy into it, and sadly, that is how I felt throughout almost this entire fim. There is nothing dreaful about this film, but there is not one aspect I would consider even mildly enjoyable, so for that, it is a really bad movie. "Brick Mansions" boasts a talent cast that has nothing to do, a cliched premise that hardly pays homage to it's original, and editing that must have been thrown together in a weekend. Some of the fight scenes seem so wquick that they must have been edited down in the final product and it shows perfusely. In the end, I am extremely disappointed, because I am a huge fan of the orinigal film.
An American remake of the French action film District B13, Brick Mansions attempts to fix what isn't broken. Luc Besson reworks his script so that now it's set in a futuristic Detroit where an undercover cop must infiltrate an autonomous, crime ridden section of the city ruled by a gangster that has acquired a WMD. Most of the changes, such as making the sister character an ex-girlfriend and turning Tremaine into an antihero, actually weaken the film. Still, most of the same action beats and stunts are carried over, and bring a lot of excitement and fun to the chase and fight sequences. Additionally, David Belle returns to reprise his role as Leo, and is joined by a strong cast that includes Paul Walker and RZA. Still, Brick Mansions feels pretty generic and isn't able to recapture the same energy of the original.
Dann Michalski
Super Reviewer
½
The action sequences are over edited until you have no idea what's going on and the plot is not engaging at all. Throw in an extremely wooden antagonist and Brick Mansions cannot be saved by the likable Walker and the parkour.
Kase Vollebregt
Super Reviewer
Brick Mansions Quotes
There are no approved quotes yet for this movie.