Brick Lane
(2008)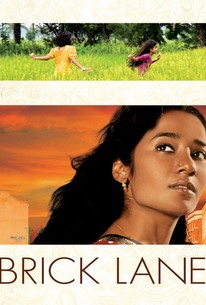 Movie Info
The story of a beautiful young Bangladeshi woman, Nazneen, who arrives in 1980s London, leaving behind her beloved sister and home, for an arranged marriage and a new life. Trapped within the four walls of her flat in East London, and in a loveless marriage with the middle aged Chanu, she fears her soul is quietly dying. Her sister Hasina, meanwhile, continues to live a carefree life back in Bangladesh, stumbling from one adventure to the next. Nazneen struggles to accept her own lifestyle, and keeps her head down in spite of life's blows, but she soon discovers that life cannot be avoided--and is forced to confront it the day that the hotheaded young Karim comes knocking at her door.
News & Interviews for Brick Lane
Critic Reviews for Brick Lane
Audience Reviews for Brick Lane
As a Westernised woman watching this film you really feel a sense of imprisionment and control the main character felt within the marriage and you really see the film through her eyes all the way through. It isn?t quite the story the synopsis explains it to be, which as it happens turns out to be a much better film because of it, it creates a gritty, realistic plot with the post 911 affects in the background story. A very enjoyable Drama with depth and perspective, I was reminded lots of the Color Purple whilst watching this film.
Lady D'arbanville
Super Reviewer
A very touching story about a Woman filled with Hopes and Dreams which are shattered in to thousand pieces later.
This calm and quiet film tells the story of a Bangladeshi woman that gets married to far away London, where we find her 16 years later with husband and daughters, struggling in her uneventful life and still hoping to return back home to her sister. How a couple of events change her mind about her dreams is carried by unknown but very natural and talented actors and a gorgeous cinematography. And although nothing terribly exciting happens throughout the film we still hope for Nazneen to live a happier life and follow her story, as the events of 9/11 make her life even a little more complicated. In its best moments, where only small gestures tell us so much about the characters, that's touching and heart-warming, but of course little spectacular and sometimes a little slow. Still worth seeing for people with the right mind set.
Brick Lane Quotes
There are no approved quotes yet for this movie.