The Breakfast Club
(1985)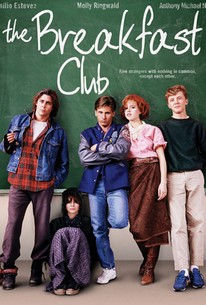 The Breakfast Club Videos
The Breakfast Club Photos
Movie Info
John Hughes wrote and directed this quintessential 1980s high school drama featuring the hottest young stars of the decade. Trapped in a day-long Saturday detention in a prison-like school library are Claire, the princess (Molly Ringwald); Andrew, the jock (Emilio Estevez); John, the criminal (Judd Nelson); Brian, the brain (Anthony Michael Hall); and Allison, the basket case (Ally Sheedy). These five strangers begin the day with nothing in common, each bound to his/her place in the high school caste system. Yet the students bond together when faced with the villainous principal (Paul Gleason), and they realize that they have more in common than they may think, including a contempt for adult society. "When you grow up, your heart dies," Allison proclaims in one of the film's many scenes of soul-searching, and, judging from the adults depicted in the film, the teen audience may very well agree. Released in a decade overflowing with derivative teen films, The Breakfast Club has developed an almost cult-like status. ~ Dylan Wilcox, Rovi
News & Interviews for The Breakfast Club
Critic Reviews for The Breakfast Club
Audience Reviews for The Breakfast Club
A smart, moving and funny relic of more than 30 years of age, that takes its characters and their problems seriously in the sweetest way, which really pays off and makes the film still ring true today. It also makes you miss the 1980s sooo much. Don't you forget about me.
An adorable classic of the '80s that still feels fresh, showing five teenage kids opening up about their personal problems with a great dialogue and inspired actions - and it is Judd Nelson who is unforgettable as the rebel youngster that acts as the catalyst of everyone's emotions.
Carlos Magalhães
Super Reviewer
John Hughes' coming-of-age classic is engulfed with brash stars (Estevez, Ringwald, Nelson, Hall, Sheedy) in their most pristine and memorable roles. The Breakfast Club is witty, hysterical and impacting with its in-depth portrayal of high school teenagers in the 80s. The film is heartfelt and is a great motion picture for generations of then, now and the future. 5/5
Eugene Bernabe
Super Reviewer
The Breakfast Club Quotes
There are no approved quotes yet for this movie.