Brand Upon the Brain!
(2006)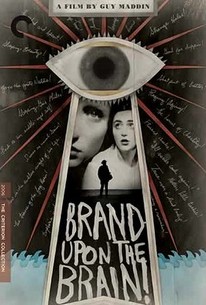 TOMATOMETER
AUDIENCE SCORE
Critic Consensus: A bizarre, compelling spectacle that invests its absurd plot with heartfelt sincerety, Brand Upon the Brain! is a unique cinematic experience.
Brand Upon the Brain! Photos
Movie Info
Canadian director Guy Maddin's "Brand Upon the Brain" is a silent film that reveals the shocking truth about his hellish childhood on a remote island under the watchful eye of a crazed mother hellbent on restoring her youth and a diabolically distant scientist-father, proprietors of a mom-and-pop orphanage that surreptitiously operate within the dank confines of the family lighthouse. Watch! as the sex instinct grabs hold of young Maddin and his sister! Thrill! as the Mysteries of the Light House are divined by teen detectives! Reel! at the headstrong invention and heart-stopping rhythms of the elder Maddin's heroic silent moviemaking!! Advance tickets available online at movietickets.com.
News & Interviews for Brand Upon the Brain!
Critic Reviews for Brand Upon the Brain!
Audience Reviews for Brand Upon the Brain!
I really admired the style, spirit, and atmosphere of this film; it recreated the essence of silent films of the 20s brilliantly. But it kind of did feel like a chore for me to sit through at times. It felt a little repetitive and once again I was left feeling like I just would NEVER truly enjoy a Guy Maddin film (THE SADDEST MUSIC IN THE WORLD still leaves me feeling uneasy just thinking about it, but I feel like I need to give it another shot). I did admire it's craftsmanship though, and can easily acknowledge that many would really like this film. Recommended to the more adventurous of viewers.
½
In "Brand upon the Brain!" Guy Maddin(Erik Steffen Maahs), the house painter, not the experimental film director, returns to the remote lighthouse where his parents(Clayton Corzatte & Suzanne Corzatte) raised him and his sister(Maya Lawson), and ran a mom and pop orphanage. It was not a particularly happy time as Savage Tom(Andrew Loviska) bullied all the other children. Teen detective Wendy Hale(Katherine E. Scharhon) arrives at the island, thinking something even more sinister is afoot and disguises herself as her brother Chance. "Brand upon the Brain!" is a giddy brew that not only contains Guy Maddin's usual homage to silent movies but also references to "Twelfth Night" and steampunk. Nothing against Isabella Rossellini(love the Green Porno shorts, by the way), but the narration is unnecessary and the movie is substantially better without it. On a thematic level, Maddin warns about the danger about looking too intently back in time for answers and is certainly not nostalgic. For example, the mother wants to control all apsects of her children's lives, keeping them immature forever and of course away from sex.
Alive, in Victoria Falls (Zambia side today). Returning Stateside on Tuesday. Bummed about the Rockies getting their rumps handed to them in the World Series. Happy I'm alive to experience the bummer, after the Zambezi. That river kicked my arse. See ya folks soon, and with pics! By the way, any good movies out lately? Saw the majority of both Away From Her and The Hoax on the flights out here, but not in their entirety (bleeping Air Canada's crappy in-flight electronics can be blamed for that). Both were excellent until being snapped away like a ghost line from my transfixed eyes. Bah.
Neum Daddy
Super Reviewer
Brand Upon the Brain! Quotes
There are no approved quotes yet for this movie.