Braddock: Missing in Action III
(1988)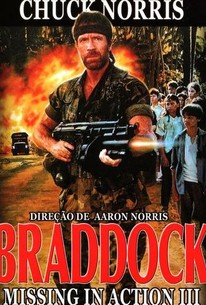 AUDIENCE SCORE
Critic Consensus: No consensus yet.
Braddock: Missing in Action III Photos
Movie Info
Vietnam veteran Colonel Braddock had believed his wife to be dead since the war, but he hears from a missionary that she is not only alive, but has a son. Soon, he returns to Vietnam to rescue them and others from a prison camp. This is the third Missing in Action film starring the well-known martial artist, Chuck Norris, as lethal hero Braddock.
Critic Reviews for Braddock: Missing in Action III
All Critics (1) | Top Critics (1) | Fresh (0) | Rotten (1)
''I never thought we'd be coming back,'' says the colonel's pal, who plainly didn't take a look at the receipts from parts one and two.
Audience Reviews for Braddock: Missing in Action III
Chuck is back and he's wearing his bandanna!. This time he's found out (conveniently by some creepy reverend who just happens to be in the US from Nam for what seems like five minutes) that his wife is still alive and well (sorta) back in Nam. Old Chuck thought she had died during the fall of Saigon. To make matters worse she has had his child! omg!! now Chuck is seriously pissed and you better bet your ass he's gonna KILL EVERYONE!!. So as you might expect this film plays out pretty much like the original and sees Chuck going back into the jungles of Nam to kick ass. Of course, as you might expect, this being the third film its bigger, louder, a bit more impressive with stunts and explosions and ever so slightly more bloody...but not much, oh and Chuck still won't swear. To add spice to this adventure old Chuck most endure the sight of his wife getting executed by the evil Vietnamese General not too soon after his initial rescue attempt. Holy wonton soup General! now you've REALLY done it! Chuck's gonna bite your nuts off whilst using polite profanity. Its probably the best of the trilogy for me because its just that bit grander yet still maintains those glorious 80's visuals and vibes that really set the stage for a retro offensive. Chuck is the epitome of the one man army, he parachutes into Nam with his own personal speed boat loaded with gear, treks through the jungle unaided and taking no malaria tablets, finds the enemy base, crashes it, saves his wife and child and then promptly gets caught. But fear not! Chuck escapes after some mild torture, gets his MASSIVE assault rifle, heads back to the enemy base, saves a whole tonne of other kids recently imprisoned and cooly dispatched all the bad guys in a super-duper array of slow motion bullet hits and explosions. Its a serious film but at the same time its also a cheesy action flick. I could mention many things such as the fact none of the kids get injured at all during the main escape despite bullets, shrapnel and debris raining down on them constantly, but I won't. Of course, as you may expect, this being a Chuck flick there must be some douche bag US officials trying to stop his mission for political reasons so he can come across all rebellious and righteous. Well that box is totally checked. In short (yes I know this hasn't been short) the film is great fun in a tame Rambo type of way...but I'm sure you all expected that. Its Chuck at his best killing the bad guys, being heroic and morally right in every way...hell its like watching 'Mary Poppins' with an assault rifle. Much more visually impressive and exciting than the first film, not as serious and bleak as the second. It starts off seriously but soon descends into that familiar hokey action packed scenario where Chuck goes around snapping necks without breaking sweat. God Bless the Stars n Stripes emblazoned across Chuck's chest.
Phil Hubbs
Super Reviewer
Absolutely dark, grainy and war action film of Col. Braddock (Chuck Norris) returns to Vietnam, after the war has ended, to rescue a group of Amerasian children including his son, he never know he had from his thought-dead Vietnamese wife, in POW camp. It's also a bit of good family-relationship story.
Dean McKenna
Super Reviewer
Braddock: Missing in Action III Quotes
There are no approved quotes yet for this movie.