Boys Don't Cry
(1999)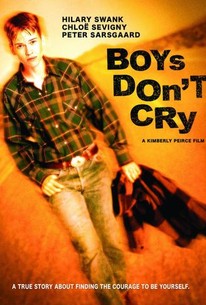 Movie Info
Based on a true story, Boys Don't Cry was adapted from the life of Brandon Teena, born Teena Brandon, a transgender man who chose to live her life as a man and suffered tragic consequences as a result. A true story about hope, fear, and the courage it takes to be yourself, Boys Don't Cry is critically acclaimed and was nominated for two Golden Globe Awards.
News & Interviews for Boys Don't Cry
Critic Reviews for Boys Don't Cry
Audience Reviews for Boys Don't Cry
An over-rated, heavily manipulative film detailing the true story of Teena Brandon, a woman trying to be a man and how she makes new friends in Nebraska, fooling them into thinking she's a man - and thus starting a relationship with a young, troubled woman there. By only briefly mentioning her criminal past but not detailing it, it feels like director Peirce is only showing one side of the story, that being that Teena was an innocent, likable human being who everyone should've loved. The only thing that elevates this movie to slightly above average territory is three standout performances from Hilary Swank (just unbelievable here - she deserves her Oscar), Chloe Sevigny (showing a full, human character), and Peter Sarsgaard (a pure psychotic, out-of-control performance that deserves as much recognition as the first two). This has the potential to be a powerful, stirring picture, but instead I couldn't help but feel like we were only seeing one side of this person, as well as the fact that why she feels like she's really a man is poorly, poorly detailed. While I admire the excellent acting as well as some of the gritty scenes, I can't quite recommend that this movie is worth it due to sheer manipulation by its director by failing to detail the past of the most important character in the film.
Dan Schultz
Super Reviewer
Lana: Shut up, that's your business. I don't care if you are half monkey or half ape, I'm gettin' you out of here! Boys Don't Cry, hmmm, where to start. It's an emotional, powerful, and quite disturbing biopic that doesn't hold anything back. Kimberly Peirce did an amazing job with this movie. I saw a documentary where she talked about having to cut a lot of stuff out because of the MPAA. This was originally NC-17 until she made the changes they wanted. The movie itself is simply amazing. Everyone that's heard of the movie knows about Hilary Swanks performance. She was absolutely superb and really deserved the Oscar for her portrayal of Brandon Teena(Teena Brandon). Peter Sarsgaard also gave a great performance as John. The film is an emotional rollercoaster and an absolute masterpiece.
Melvin White
Super Reviewer
Absolutely heart wrenching! Hilary Swank deserved her Oscar and the fact that this was a true story is even more heart breaking. People in this world are so cruel and this film just shows you how much. 10/10
Bethany Murphy
Super Reviewer
Boys Don't Cry Quotes
There are no approved quotes yet for this movie.