Boy
(2012)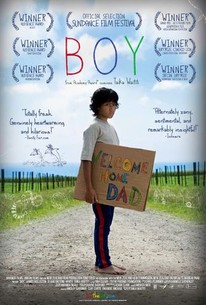 TOMATOMETER
AUDIENCE SCORE
Critic Consensus: Boy possesses the offbeat charm associated with New Zealand film but is also fully capable of drawing the viewer in emotionally.
Movie Info
The year is 1984, and on the rural East Coast of New Zealand "Thriller" is changing kids' lives. Inspired by the Oscar nominated Two Cars, One Night, Boy is the hilarious and heartfelt coming-of-age tale about heroes, magic and Michael Jackson. Boy is a dreamer who loves Michael Jackson. He lives with his brother Rocky, a tribe of deserted cousins and his Nan. Boy's other hero, his father, Alamein, is the subject of Boy's fantasies, and he imagines him as a deep sea diver, war hero and a close relation of Michael Jackson (he can even dance like him). In reality he's "in the can for robbery". When Alamein returns home after 7 years away, Boy is forced to confront the man he thought he remembered, find his own potential and learn to get along without the hero he had been hoping for. -- (C) Official Site
News & Interviews for Boy
Audience Reviews for Boy
Unconventional coming of age story that incorporates so much more than its (approximate) 90 minutes should let it, always feeling fresh and like the stakes are high as it wanders through its story... beautifully shot, too. Seek out this movie!
Daniel Perry
Super Reviewer
Incredible coming-of-age film right here. I hadn't heard of Taika Waititi before this film, but after this film he is definitely someone to keep your eye on as he's quite adeptly combines a quirky, and imaginative, sense of humor, offbeat charm with emotional depth and strong character development. I don't think this film tells a story that is wholly unique. Boy, literally...that's his name, idolizes his father, who's been gone for years. To the point where he creates this exaggerated image in his mind of a father who's absolutely perfect who will take him away and they'll live in a mansion, wear suits and ride dolphins. The film sees Boy, as Alamein comes back into his life after being in prison, as he finally gets to see that his father, while not a bad man per se, isn't exactly as perfect as he'd imagine. That fantasy he has lived all these years is shattered once he sees his father get beat up in a fight near the climax of the movie. I think the movie is certainly emotionally engaging without being sentimental or resorting to cheap tactics, which is always a good thing. If there is one problem is that the stress that Boy has from seeing that his father is just a regular man, and not the superhero he imagined, and from the death of his pet goat probably comes to close to the ending for it to be truly effective, at least in my opinion. It was certainly well-done and solidly acted but, again, it would've been better if it had been building up over a period of time rather than all of it coming at once. There is that moment when Alamein comes and yells at Boy for taking his jacket, but then he apologizes and it's all back to normal. So I don't know, what ended up happening to Boy felt a little bit rushed, but it's still good. The acting is really strong from all involved but there are moments, to me, where James Rolleston, who plays Boy, has some missteps. I think that's forgivable considering that, I believe, this was his first time acting. If anything, of the actors who played Boy and Rocky, I found the actor that played Rocky to be the one that most pleasantly surprised me. I found the character of Rocky to be, by far, the most interesting of the film because of the fact that he believes he kills his own mother during his birth. Because of this, he believes he has superpowers and while it does lead to some funny moments, it's also done to illustrate Rocky's issues with his mother's death. A mother he never met, and I thought that was very well done. Really, this is a movie that is not without its flaws. But I think the heartfelt script and the imaginative sense of humor still makes this a great movie and one that I highly recommend.
Jesse Ortega
Super Reviewer
Heartfelt, funny, and sweet, BOY is a great film about a child's transformation into a man; a film that takes the familiar story of when a boy finally realizes the unmet expectations of his flawed father who had been firmly idolized and placed upon a pedestal that is now collapsed, and injects it with a narrative that is well-cast, well-acted, and steadily-paced. Never feeling too cheesy, Taika Waititi's film - Waititi both stars and directs - is genuine and natural, filled with subtle moments of humor that are ingeniously placed as well as a particular New Zealand accent that is simply fun to listen to.
Sheldon Chau
Super Reviewer
Boy Quotes
There are no approved quotes yet for this movie.