Boxcar Bertha
(1972)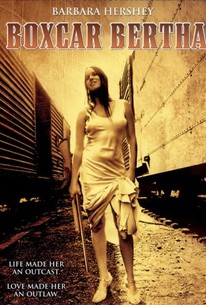 AUDIENCE SCORE
Critic Consensus: Too derivative of other Roger Corman crime pictures to stand out, Boxcar Bertha feels more like a training exercise for a fledgling Martin Scorsese than a fully formed picture in its own right.
Movie Info
Produced by Roger Corman and directed by Martin Scorsese, Boxcar Bertha is a Bonnie and Clyde-like yarn set during the Depression. The title character, played by Barbara Hershey, links up with union organizer David Carradine (Hershey's real-life lover at the time) after the death of her father. Running afoul of anti-union forces, Bertha and Carradine are forced into a life of crime. Whereas Bonnie and Clyde robbed banks, Boxcar Bertha's specialty is trains. A story of this nature can only end in tragedy, and wait until you see Carradine's symbolic demise! For the record, there really was a Boxcar Bertha Thompson, and it is her autobiography, Sister of the Road, that serves as the basis for Joyce and John Corrington's screenplay.
News & Interviews for Boxcar Bertha
Critic Reviews for Boxcar Bertha
Audience Reviews for Boxcar Bertha
½
Before Boxcar Bertha, Martin Scorsese had directed one feature film and a few shorts. Roger Corman offered him the chance to direct this film, one of the first crime dramas from Scorsese. This feature can viewed as an exercise in style for Scorsese as he was finding his groove that would later make him famous. This is a well executed gangster film that is very entertaining from beginning to end. Scorsese shows a knack for creating an engaging picture, and it is a very well directed movie that is elevated by its cast. Scorsese would go on to make several cinematic classics, but with Boxcar Bertha he really delivered something that showcased Scorsese's talents as an upcoming director. The film may be unfocused compared to his other works, but it does boast some early trademarks that would make Martin Scorse such a legendary figure in the cinematic medium. The story, I thought was quite good here, and it should a director that was just bursting with confidence and skill in order to create a memorable movie. Boxcar Bertha is not Scorsese's best of course, but it is a necessary film in his career, one that he needed to make to give himself an understanding of the gangster genre, which would be prominent in his works such as Mean Streets, Goodfellas and Casino. As a second full length feature, this is a terrific picture that needs to be seen by any Scorsese fan. The cast do some fine work here and even if it's not a standout gangster film, it's still fairly important in the career of Martin Scorsese, as he would follow up this picture with the phenomenal Mean Streets and three years later bring us the iconic Taxi Driver. Boxcar Bertha shows the viewer a director who was just getting started, and even with its imperfections, you can see where Scorsese was headed with his later work.
½
Scorsese's feature debut is more than just a Bonnie and Clyde rip-off exploitation pic made for Roger Corman. Yeah, there's definitely some similarities, mostly with the lovers/criminals robbing the rich and giving to the poor during the Depression, but here there's a bit more subtext with Marxism, racism, and labor history, with some nudity, violence, and religious symbolism thrown in for good measure. Barbara Hershey is pretty good (and really young) as the naive Bertha who is head over heels in love with railworker labor leader Big Bill Shelley (played terrifically by an equally young David Carradine). Together, they ride the rails, going around and sticking it to the man and fighting for the common folk. Yeah, that's all typical stuff, but there's also plenty of evidence of now trademark Scorsese stuff going on, such as religious imagery/symbolism, terrific camera work and cinematography, nice use of music, and stylish gangsterism cool. Besides the two leads, there's a nice supporting role from Bernie Casey (who really steals the show during the climax), and a decent turn from Barry Primus as a cohort of our (anti)heroes. For a low budget exploitation piece, this is better than it has any right to be, and is a wonderfully important piece in the tapestry that is the career of one of my favorite directors of all time.
Chris Weber
Super Reviewer
"Life made her an outcast. Love made her an outlaw." I'm glad I wasn't alive when Scorsese made his first two movies. Both his first, Who's That Knocking At My Door?, and second, Boxcar Bertha, are both pretty bad in my opinion. Maybe if I had seen them prior to all of his great movies, I would have liked them more. Watching them now, after seeing movies like Taxi Driver and Raging Bull, it is hard to like them, especially Boxcar Bertha. It is nothing like you would expect from Scorsese.  The movie is pretty aimless and the only thing that at all makes it seem like a Scorsese movie is all the violence. The movie follows Bertha through the depression. She falls in love with a union man and ends up braking him out of a chain gang, along with another acquaintance of Bertha and a large black man. The four then go on a robbing spree.  This is an a really weird movie. It seems almost episodic and there's no real development of either characters or plot. Stuff just happens. There is no real pacing. Bertha hops a train, fucks a guy, meets another guy, kills a guy, robs a guy; who cares.  From this point on Scorsese was the best though. It isn't how you start, but how you finish. With his first two movies, he was finding his way as a director and he definitely found it, because right after this he made Mean Streets and then arguably his best movie, Taxi Driver. The guys is definitely a legend, but I would still recommend skipping this one; I don't care how big a fan you are of him.
Melvin White
Super Reviewer
Boxcar Bertha Quotes
There are no approved quotes yet for this movie.