Box of Moonlight
(1997)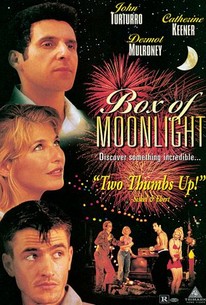 Movie Info
In this quirky fable, the unexpected onset of a middle-age crisis leads a rigidly punctual electrical engineer to a timeless place where he learns that there is indeed life without deadlines. Al Fountain's (John Turturro) epiphany comes while he is overseeing the construction of a windshield-wiper plant in Drip Rock, Tennessee. Rigid, hyper-punctual (his wife in New York could set her watch by the consistently precise timing of his nightly phone calls) and humorless, Al wins no friends among the crewmen. One day he overhears them feeling a little sorry for him for being such a stiff. Soon after, he finds a gray hair in his comb. Then, in his hotel room, he begins having frightening visions of the world moving in reverse. Still he conceals his inner turmoil until his job is abruptly cancelled. Without really knowing why, he decides to remain in Drip Rock for a while and so lets his wife believe that everything's okay. One day, he helps a stranded motorist named The Kid (Sam Rockwell). He asks Al to tow his car to his strange and colorful trailer in the woods where The Kid invites him to stay. The free-form, undisciplined Kid proves to be Al's opposite, but still the two forge a friendship that changes Al's life.
Critic Reviews for Box of Moonlight
Audience Reviews for Box of Moonlight
½
Love Sam Rockwell. Did not love this film. John Turturro's character was on my nerves from the get go. I personally don't see how one weekend spent with a free spirit can change a man's whole outlook on life. His poor, suffering wife and child seemed RELIEVED he was away from home. I can't blame them. I have to say I could feel no kinship with the main character, and the movie just seemed pointless to me.
Cynthia S.
Super Reviewer
Leigh Ryan
Super Reviewer
Box of Moonlight Quotes
There are no approved quotes yet for this movie.