Bound to Lose
(2006)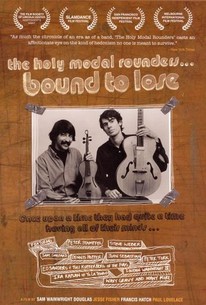 Movie Info
Filmmakers Paul Lovelace and Sam Wainwright Douglas invite viewers to follow the tale of two true American originals in this documentary detailing the collaboration between fiddler Pete Stampfel and guitarist Steve Weber -- aka the Holy Modal Rounders. It was during "The Great Folk Scare" of the early 1960s that these two eccentric souls collided in New York's Greenwich Village, and their partnership was soon solidified thanks to a mutual appreciation for American roots music and early psychedelia. But this was only the beginning, because over the course of the next four decades Stampfel and Douglas would exist on the fringes of the music industry while gaining a steady cult following. From their work on the Easy Rider soundtrack to the lost years and ultimately a shot at redemption in the form of a 40th anniversary concert in Portland, OR, this is the story of the American outlaw subculture at its most volatile and luminous. Special appearances by Dennis Hopper, Sam Shepard, Loudon Wainwright III, John Sebastian of the Lovin' Spoonful, and Peter Tork of the Monkees give testament to the endless influence of a duo that beat the odds to endure for four decades and counting.
Critic Reviews for Bound to Lose
Audience Reviews for Bound to Lose
I suppose as a definitive history of the band, this fails on several levels. But, as a portrait of where the members of the band are now, and as a small tribute to their talent and influence, this is as good as it gets. I remember just about wearing out an early copy of the Moray Eels Eat the Holy Modal Rounders back in the day, and it was fun seeing who was responsible for that wonderful piece of subversive electrified psychedelic folk-rock mayhem. Even as decrepit as Steve Weber appears, the man can still pick a mean guitar and chew through the intricate lyrics of some real Rounder chestnuts. This was fun. They can't sing, they're not very good looking, but man can they put a smile on the face! If you aren't familiar with their music, or that of their earlier band, The Fugs, you might not find this as rewarding as this viewer did, but I would encourage anyone who appreciates old-time country and counter-culture folk to give them a listen, and a look-see. The bonus material was terrific. Nearly an hour of mostly live performances, with a little commentary thrown in. Artistes to you, you punk chumps!
Mark Abell
Super Reviewer
Bound to Lose Quotes
There are no approved quotes yet for this movie.