Bound for Glory
(1976)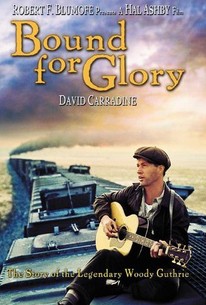 AUDIENCE SCORE
Critic Consensus: Bound for Glory brings the Dust Bowl era to authentic life thanks to Haskell Wexler's opulent cinematography and Woody Guthrie's resonant music, capturing the American mood at the time as much as it does the folk singer's life.
Movie Info
Based on the autobiography of iconic folk singer Woody Guthrie, who wrote "This Land Is Your Land." Unable to find work in Texas after the Dust Bowl devastation of the 1930s, Guthrie left his family with relatives rode the rails with thousands of men, traveling to migrant worker camps in California, recording the brutality and injustices he witnessed in song. Eventually, Guthrie's protest music earned him a following through the radio and he rode the rails to New York to find a larger audience.
News & Interviews for Bound for Glory
Critic Reviews for Bound for Glory
Audience Reviews for Bound for Glory
This might be based on folk legend Woody Guthrie's autobiography, but it comes off as less of a biopic, and more of an origin story of sorts, basically a tale of how a situation not all that dissimilar from The Grapes of Wrath led to a man changing the face of folk music and specifically politically charged protest tunes. It also is the first time that I actually felt rather underwhelmed and let down by Hal Ashby. This is a very well meaning film, and some of it is done quite well, but overall, this is far more flawed than I was expecting. I think it might have to do with the fact that for some reason, it comes off as feeling like a cheap, TV movie of the week sort of affair, and not some epic look at how Woody Guthrie helped get people through the Great Depression. The pacing is pretty slow and uneven, and the way the film is structured is like this, too. It's kinda all over the map. I do think that David Carradine gives a great performance though. It's definitely one of his best. He carries the film, and ultimately saves it from being worse. Ronny Cox is also good, probably the second best one here, but where Melinda Dillon and Randy Quaid are concerned, I was let down. I love those two, but they just didn't do it for me. I said the film feels cheap, but that's surprising since Haskell Wexler's cinematography is quite good. It definitely captures the essence of the era, so maybe the TV feelings come from the execution. Plus, this film featured what I believe was the first steadicam-based long take tracking shot, and I generally just go nuts for that sort of things. All in all, this film is an overlong mess, but it does have its moments. Carradine and Wexler make it worth it, but I feel like somebody really dropped the ball here, and that this is one of the times where I think a remake is definitely warranted.
Chris Weber
Super Reviewer
I could watch David Carradine and Ronny Cox sing duets all day, especially when it is being filmed by Haskell Wexler. The film looks beautiful and is more about Guthrie's music and its roots (almost a pre-cursor to Haynes' Bob Dylan bio-pic). The problem is that the movie rambles too much and ends too quickly, wrapping up too nicely for my taste. Carradine and Cox give amazing performances, but the film falls a little short.
As a fan of Guthrie's music and someone who has always been oddly drawn to the stories of depression era America (it's so surreal!) I found this film to be enjoyable to spike the fact that it feels (at times) a bit "made for tv". It is just as much a film about the period as it is about Guthrie and his music. So much so that I was left wishing it would have given more details about him and his life.
Bound for Glory Quotes
There are no approved quotes yet for this movie.