Bottle Shock
(2008)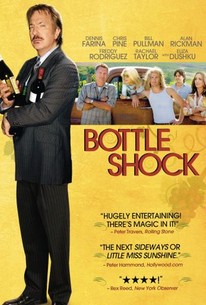 TOMATOMETER
AUDIENCE SCORE
Critic Consensus: Bottle Shock fails to properly utilize the inspiring true tale at its core, settling instead for an ordinary, plodding account.
Movie Info
Brought together by a curious twist of fate on a dusty California road, a wandering vintner and a struggling winemaker find both their lives, and their careers, forever transformed at a blind Parisian wine tasting that introduced the world to the extraordinary wines of Napa Valley. The year is 1976, and Napa Valley has yet to gain the reputation as one of world's best-known wine regions. Jim Barrett (Bill Pullman) has sacrificed everything in life to realize his dream of creating the perfect Chateau Montelena. Yet despite the fact that Jim's Napa Valley vineyard has great potential, his son, Bo (Chris Pine), doesn't seem to have much interest in the family business. Most days, Jim and Bo can be found trading blows in their backyard boxing ring -- their attempts to knock a bit of sense into one another usually amounting to naught. Meanwhile, in Paris, British expatriate Steven Spurrier (Alan Rickman) finds necessity dictating that he educate Parisians on the latest wines to come out of California. Steven owns the Académie du Vin, and is eager to travel to the United States in order to ensure that he has conducted his research properly. Little did Steven and Jim realize that they were both on course for a chance meeting that would revolutionize the wine industry while opening up a whole new world of possibilities for wine lovers everywhere. ~ Jason Buchanan, Rovi
News & Interviews for Bottle Shock
Critic Reviews for Bottle Shock
Audience Reviews for Bottle Shock
½
"I really didn't care for the movie. It's just not my type of film; nor was I the right audience for it either. I still enjoyed bits of it. The acting is good by most and there was some funny moments too. Plus, just seeing Chris Pine in a blonde wig (I hope it was a wig) dancing around being a hippie was kinda worth it. Initially the actors are what drew me into seeing the film. I don't drink wine so the fascination and the different names and types were lost on me. I'm more of a whiskey kinda gal. So those of you who are a big fan of wine might like this much more then I ever will."
♥˩ƳИИ ƜѲѲƉƧ♥
Super Reviewer
½
This is a nice little docu-dramedy concerning the turning point for California's wine industry. It's 1976 and a British wine snob named Steven Spurrier feels that no wine can compare to French wine. After hearing that Napa Valley has a growing industry, he decides to investigate, and see if these supposed hicks really have any idea what they're doing. He decides that a blind tasting to compare the California stock with France's finest is in order, but upon trying some of what California has to offer, he realizes there might actually be something promising with their offerings. I was surprised by this. I didn't really know what to expect, but I found it rather enjoyable. Thankfully it's not a rip off of Sideways, just a different take on the some subject. Plus, this one's based on true events, and though it may be a formulaic and predictable underdog story, that doesn't mean it's no less a joy to watch. I think it may have been better had it been a miniseries, as that would have allowed for all of the California vintners to be fully developed and profiled, instead of just a select few, but the gets across anyway. Alan Rickman is great though a bit on the nose as Spurrier. Bill Pullman is quite good as vintner Jim Barrett, and Chris Pine is a scene stealing delight as his hippie son Bo. The film might not be anything fresh or outstanding, but it's nevertheless a nice little offering.
Chris Weber
Super Reviewer
Bottleshock is the story of the 1976 Paris Wine tasting and how a group of Winters from the Napa Valley in California outclassed the French Wines at the tasting. One of these wines is the now famous Chateau Montelena, the wine that beat the French. This film follows the story of Chateau Montelena as a British wine expert by the name of Steven Spurrier selects the best wines of the Napa Valley to compete against the best of the French. In his search, he is surprised at the quality of the wines and selects the Chateau Montelena along with a few other to compete. the Cheateau owner, Jim Barrett doesn't want to participate as he thinks it's a ploy to humiliate the Napa Valley vinters. However his son, Bo sends the bottles and ultimately is one of the wines selected to participate in the blind taste test. Bottle Shockj is a terrific film that blends comedy and drama, IU believe that this film has gotten a lot of unfair flack. Some people don't seem to realize how good this film really is. Sure, it's not flawless, but it's a well acted film about a very interesting, historical subject. Because after all the 1976 Paris Wine Tasting was a historical event, that changed the wine industry forever. The film has been said thats its less good than Sideways, well honestly, Sideways was overrated to the max and was a boring film that was a waste of a good cast. In my opinion, Bottle Shock is a superior film that shouldn't be dismissed so easily. A surprisingly good film.
Bottle Shock Quotes
There are no approved quotes yet for this movie.