Borgman
(2014)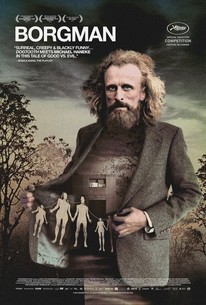 TOMATOMETER
AUDIENCE SCORE
Critic Consensus: Borgman's unpredictability may confound as many viewers as it enthralls, but either way, it's a refreshingly original experiment in off-kilter terror.
Movie Info
Modern day Europe: A priest and his companion hunt silently through the fields, accompanied by a braying dog. They are armed and deadly. Their quarry is Camiel Borgman, living in military sparseness in an underground den, near companions Ludwig and Pascal. Camiel scrapes out with some difficulty, hitching a ride with a doomed truck driver on a relentless trip to the heart of suburbia. He passes by two odd women, Brenda and Ilonka, with whom he seems to share a history. When a dirty Camiel arrives at the door of artist Marina and media executive Richard's expansive, designer-chic home, the shifting perceptions of Van Warmerdam's screenplay begin to displace and disorient the audience. Hallucinogenic elements dot the consciousness as Camiel shifts between the roles of victim and aggressor. He asks for a bath. He toys with Richard's jealousy. He is viciously beaten up by his cruelly intolerant host and left wounded on the floor. Marina seeks to assuage her guilt by allowing him a space for the night. She treats his wounds. She makes him some food. She begins to deceive her husband. And Camiel Borgman insistently starts to install himself in the house as his dark advances ebb and flow, push and pull. Marina is self-obsessed; Richard a casual racist; they employ a nanny Magot to look after their three small children, the youngest of whom, Isolde, sees Camiel early on and is responsive to his presence. "There is something that surrounds us," says Marina, fearfully, but she is no longer in control. Large dogs roam casually through the house. There are flashes of something sinister in the garden as Camiel waits, and watches. Soon he is inhabiting Marina's dreams. "Couldn't you come back in another capacity?," she asks him. "I could," he says, "...but it will have consequences." (c) Drafthouse
News & Interviews for Borgman
Critic Reviews for Borgman
Audience Reviews for Borgman
½
One of the most disturbing movies I've ever seen. It's confusing at times, but despite not always understanding what was happening or why, I couldn't look away. There is such a palpable feeling of dread in this film, the leader, Borgman and his followers so cold, calculating and sinister, I was deeply affected by this movie. Some reviewers saw dark humor, I did not. The movie has awkward moments, and like terrifying film, you wish for something funny to break the tension, but this movie is weirdly dark. It feels like peeking into the world of a sadistic cult that simply feels far too real.
Mark Harper
Super Reviewer
½
Borgman is like a Lifetime movie / scary story for adults. As a film it might have been fine if it had decided what it wanted to be and stuck with that. The acting and visuals are fine (and something to look at if you are a fan of ultra-modern European design). The problem is that it is made out to be serious / realistic and the action is extremely far-fetched. The two do not mix. Rather it ought to have gone with a supernatural vibe which lets the viewer go along with unrealistic action or write realistic crimes.
Robert Brogan
Super Reviewer
This outstanding Dutch thriller written and directed by Alex van Warmerdam will make you think like never before... mainly to understand what actually happened. But, even if you don't, it is worth every penny for the artistic value, unbelievable storytelling, unpredictable mystery and acting! I wish I could watch more movies with stars Jan Bijvoet (Camiel Borgman), Hadewych Minis (Marina), Jeroen Perceval (Richard) - they were perfectly casted! This film was nominated for the Palme d'Or at the 2013 Cannes Film Festival, and it was selected as the Dutch entry for the Best Foreign Language Film at the 86th Academy Awards. Sadly, it missed the opportunity to be nominated for the Oscars. [img]http://drafthousefilms.com/_uploads/films/31137/borgman_bedroom__medium.jpg[/img] I am not sure how to explain the plot... it is a strange story with clues which will never give you the answer... But I will try to give you another clue - Borgman or Borgmann is the name given for landlords who worked for king's, royal aristocracy in the middle-ages. Those who had to collect payments, therefore the Dutch name 'borg' to take toll/to take money and 'man' the person who takes it! And in this movie the payment was in lives. Everything starts with a priest with his helpers trying to catch mysterious men, who managed to escape. Their leader sets in motion disturbing series of events disrupting the comfortable existence of an affluent family. As soon as he started, he is violently assaulted by hot-headed husband and father Richard (Jeroen Perceval) after requesting to take a bath in his home, and insinuating that he was once close with Richard's artist wife Marina (Hadewych Minis) who takes mercy on the stranger... and that was the mistake... [img]http://drafthousefilms.com/_uploads/films/31137/borgman_bath__medium.jpg[/img] I will recommend this movie to every film lover who can appreciate really dark fable... and this one has exceptional protagonist who is quite a character but we are never really sure if it is just a dream, a demon, or the physical embodiment of our fears? It is pure sinister presence on the streets of a normal everyday suburb, causing cracks on the crumbling facade of the " perfect" couple with three children, a couple arrogant and full of himself. [img]http://drafthousefilms.com/_uploads/films/31137/borgman_surgery__medium.jpg[/img]
Borgman Quotes
There are no approved quotes yet for this movie.