The Boondock Saints
(1999)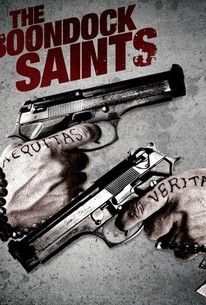 The Boondock Saints Photos
Movie Info
Feeling that they are doing God's will, two Catholic men from Boston set out to kill everyone in this Reservoir Dogs-style vigilante thriller. Brothers Conner and Murphy MacManus (Sean Patrick Flanery and Norman Reedus) take to performing their divine duty against the Russian mob. They massacre a bunch of unsuspecting Mafioso in a scene of absurd violence, then they let more blood in a mass killing of porn-shop customers. Instead of getting thrown in jail, they are dubbed "saints" by the Boston Herald, and they are praised by brilliant, tortured, and gay FBI agent Paul Smecker (Willem Dafoe). ~ Jonathan Crow, Rovi
News & Interviews for The Boondock Saints
Critic Reviews for The Boondock Saints
Audience Reviews for The Boondock Saints
Two Irish Catholic fraternal twin brothers, inspired by the divine, embark on a mission of bloodshed throughout Boston's criminal underworld as a flamboyant government agent tries to apprehend them while simultaneously taking their side in the stylish, memorable, and wildly entertaining cult favorite. Oh man, how times (or at least me) have changed. When I first saw this, I was blown away. I thought it was an amazing work of art and it proved pretty influential to my life, at least for a while. Now, after revisiting it nearly a decade after first seeing it, I find myself more critical, less impressed, and having a more nuanced reaction. The MacManus Brothers seem like vigilantes who only go after serious sinners, but no, they're not true vigilantes. If anything, they're more like psychotic religious zealots who go on serial killeresque rampages. Sure, they're doing good, but, when you really think about it, they're pretty messed up guys themselves. I still like the religious elements, and the questions of morality and moral ambiguity, but, while I generally like antiheroes, this is a case where the moral ambiguity kinda makes me feel uncomfortable, and it disturbs me some. However, since the film is really idiosyncratic, stylish, and super cool, I can't hate on it too much, as it is entertaining. Yeah, it's pretty derivative, and maybe tries a bit too hard, but I think it still kinda works, even if it is messy, and has become ridiculously popular. Yeah, I'm complaining, but I'm still giving this a pretty high rating because, well, it is fun, it is entertaining, it does raise good questions and makes you think about things, and well, I dunno. It just has this odd appeal to it. Plus, the casting and acting (namely Dafoe, Flannery, Reedus, and Connolly) are solid, and, when the film works, it works well. Yeah, sometimes it goes a little overboard, but it mostly holds it all in. Bottom line: see this thing already. I know it's become a cliche to love this movie, and I admit to blindly going nuts for it, but I have since matured, and, while I know it has a lot of problems, it's still a good movie. Plus, sentimentality is a bitch. I can't hate on something too hard that helped shaped who I've become.
Chris Weber
Super Reviewer
Daniel J DeMersseman
Super Reviewer
[img]http://images.rottentomatoes.com/images/user/icons/icon13.gif[/img]
Directors Cat
Super Reviewer
The Boondock Saints Quotes
There are no approved quotes yet for this movie.