The Bone Snatcher
(2003)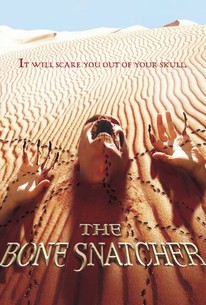 Movie Info
A researcher learns that the desert holds a new sort of danger worse than sunstroke or dehydration in this horror story from South Africa. Alex (Scott Bairstow) is a Canadian scientist who works for a firm that monitors the location and safety of people traveling in dangerous environments. Alex is dispatched to Nambia on an assignment, and soon finds himself thrown in with a handful of eccentric and unstable locals who are involved in a search for diamonds. When four of the jewel hunters are found dead in the desert with the flesh stripped from their bodies, it's up to Alex to find out what's gone wrong, and he soon learns he's up against a menace unlike anything he's seen before. The Bone Snatcher also stars Rachel Shelley and Warrick Grier.
Critic Reviews for The Bone Snatcher
Audience Reviews for The Bone Snatcher
I don't understand this film, I really don't. So there are some carnivorous ants in the desert, alright. Acting... Non-existent, plot... Non-existent. Definitely one of the least scary horror films. The special effect was really crappy, even for a low budget B-movie. Most of the film is about characters reading lines, don't even bother with this junk.
Sylvester Kuo
Super Reviewer
The Bone Snatcher Quotes
There are no approved quotes yet for this movie.