Body Snatchers
(1993)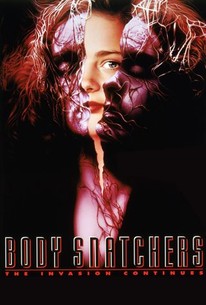 Movie Info
Abel Ferrara's Body Snatchers is the third screen version of Jack Finney's cold war science fiction novel Invasion of the Body Snatchers. Marty Malone (Gabrielle Anwar) is moving with her father, stepmother, and stepbrother to a military base where her father will investigate possible environmental and ecological problems. Before they get to town, Marty is warned in a gas station restroom by a crazed looking military man that, "They get you when you sleep!" Marty adjusts to life on the base by flirting with a young officer and making friends with the rebellious daughter of the base commander. These friends help her when a plot by aliens to turn all humans into unemotional, unfeeling "pod people" shifts into high gear. As her family and friends are attacked, Marty doesn't know who to trust. Previous versions of his story were directed by Don Siegel (1956) and Phillip Kaufman (1978). ~ Perry Seibert, Rovi
News & Interviews for Body Snatchers
Critic Reviews for Body Snatchers
Audience Reviews for Body Snatchers
½
Once more into the breech, and this time it's not so bad at all as the alien fungus returns to take over the planet by assuming our identities once again. Who's a real human? Who's an alien replacement? Really good is how the work portrays a little kid alone in the knowledge that everyone he knows is not anybody he knows. Plus some light but effective special effects that manage the gross out portion. How did I miss this first time around? It's better than you thought it would be.
Kevin M. Williams
Super Reviewer
½
The most indelible aspects of the manifold adaptations of 'Body Snatchers' have been the sociopolitical subtexts behind them. The ephemeral, quite arch 1993 rendition focuses on the emotional repression of the military establishment and EPA-regulated environmental safeguards. The concept of Meg Tilly being the stepmother is another example of a surrogate for an authority figure. There are a few deliciously sinister scenes liberally sprinkled throughout the film including a disquieting sequence where an entire classroom draws the same amorphous painting except for the solitary non-pod person and the Vulcan logic that "it's the race that's important, not the individual". Abel Ferrara vainly enhances the claustrophobic atmosphere with Dutch angles but this is the umpteenth iteration of this tale and his style-over-substance sensibility is no consolation. On a sidenote, the bellowing shrieks of the pod people might've been terrifying decades ago, but they are incredibly dated and cartoonish nowadays (especially the horrendously superimposed CGI of a screamer plummeting from a helicopter).
Cory Taylor
Super Reviewer
½
It's been a while since i saw this one, Ferrara's direction is great, the sense of tension was very well build. My problem was the very anti-climatic ending. Might need a rewatch.
Tsubaki Sanjuro
Super Reviewer
Body Snatchers Quotes
There are no approved quotes yet for this movie.