Body Double
(1984)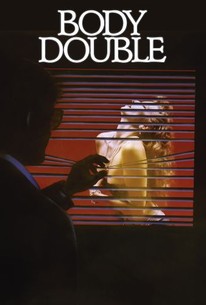 Movie Info
In Body Double, director Brian DePalma pays homage to the Alfred Hitchcock movies Vertigo and Rear Window, adding a few grotesque touches all his own. Craig Wasson plays Jake, a struggling actor who keeps losing jobs because of his claustrophobia. To make matters worse, his girlfriend has walked out on him, so he has no place to sleep. His pal offers him the use of his apartment for the evening. The apartment happens to be equipped with a huge picture window and telescope, enabling him to spy on his beautiful neighbor Gloria (Deborah Shelton) while she undresses. He also bears witness to her brutal murder. And then he meets a porn star (Melanie Griffith), who has just taken a job posing as the late Gloria. ~ Hal Erickson, Rovi
Critic Reviews for Body Double
Audience Reviews for Body Double
½
"Everybody is a peeper, peeping on their neighbors", Hitchcock seemed to infer with the production of Rear Window, "wouldn't we be happier if we all could just admit it?" DePalma, looking to up the ante seems to ask further, "we all masturbate, couldn't we simply do it together?"
Kevin M. Williams
Super Reviewer
½
Brian De Palma seems to be enjoying quite a lot to poke fun at the artificiality of cinema with this delicious pastiche that pays homage to Hitchcock's films (mainly Vertigo and Rear Window) and plays with the limits of narrative and language as he injects his own style into it.
Carlos Magalhães
Super Reviewer
½
Well, I think it's fair to say I have never screamed at characters more in a movie than I did watching this! Those scenes where Jake was "stalking" Gloria - bloody hell, so obvious. Then came the point mid movie where I felt like I was watching a whole different movie and couldn't understand what the hell was going on. Highly original and it did tie up at the end. Suspense and 80's tackiness all thrown into one movie. Right in my element with this one. And extra half star for the appearance of Holly Johnson. How had I never seen this one before!
Nicki Marie
Super Reviewer
Body Double Quotes
There are no approved quotes yet for this movie.