Blue in the Face
(1995)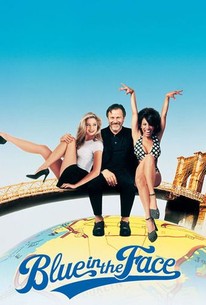 Movie Info
Director Wayne Wang and screenwriter Paul Auster had enough storylines and characters left over from their charming comedy Smoke to make another film, so they shot Blue In The Face immediately after Smoke was completed. The film once again centers on the Brooklyn Cigar Store and manager Auggie (Harvey Keitel), although most of the other characters are different. The store owner's frustrated wife Dot (Roseanne) is one of them, and one of the plotlines follows her attempts to seduce Auggie. Madonna, Michael J. Fox, Lily Tomlin, and Lou Reed (as himself) also put in appearances. Blue In The Face was shot without a complete script and presents a unique combination of distinctive performances, oddball characters, improvisations, and raffish scenes.
Critic Reviews for Blue in the Face
Audience Reviews for Blue in the Face
½
Bob: Coffee and cigarettes. That's like the breakfast of champions. "Welcome to the planet Brooklyn." Blue in the Face is a fun enough movie especially if you like the style of Smoke. This isn't really much like Smoke though, when it comes to story. There's really no story here. There's a lot of individual improvised scenes and interviews telling random facts about Brooklyn. It's a very loose film, that has  a sort of documentary feel to it at times and a standard feature film feel to it at other times. The cast is huge in this film, with Harvey Keitel being the only big name that was left over from smoke. Michael J. Fox, Jim Jarmusch, Lou Reed, Roseanne,and Madonna all make appearances throughout.  In the end, Blue in the Face is pretty much just Wayne Wang pulling scraps from Smoke, but it has it's appeal. I like the conversations, which all have the improve feel to them. This isn't a movie that really needs to be seen, but it's one that is a good amount of fun for fans of Smoke. If you didn't like Smoke though, there's absolutely no reason to waste your time with this film.
Melvin White
Super Reviewer
Unjustly criticized film made from outtakes from the superior Smoke. I think too many critics compared it to that film rather than on it's own merits, but I absolutely loved the slice of life feeling of this film. Really good stuff.
Christopher Brown
Super Reviewer
Parts are fun, but unscripted actors can only take things so far.
Anthony Valletta
Super Reviewer
Blue in the Face Quotes
There are no approved quotes yet for this movie.