Blue Chips
(1994)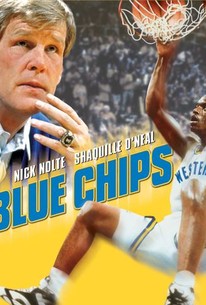 Movie Info
Winning is everything, even if you have to lie, and cheat to do it. That is the under-lying message of this dramatic expose of college basketball recruiters. Up till recently, Pete Bell has been a winning coach for Western U's basketball team. But this year has been different. The film opens with the coach ripping into the team for another dreadful game. Bell knows that if his team continues to lose, he will lose his job. He has no choice but to recruit more talent. He begins his search for better players and finds three good prospects: Chicago player Butch McRae, an accurate shooter; Ricky, an enormously tall boy form French Lick, Indiana; and Neon, a temperamental giant. Together these three offer unbeatable potential if he can get them to come to Western. But it's not easy. The first two make exorbitant demands involving a lot of cash, new homes, and farm equipment. Neon asks for nothing but gets a new luxury car. Coach Pete is already dealing with allegations of shadiness and does not want to give in, but he is forced to by the alumni organization leader. Pete does not cope well.
Critic Reviews for Blue Chips
Audience Reviews for Blue Chips
"Blue Chips" is one of my favorite basketball movies. I've seen it a few times and it still doesn't get old. A coach (Nick Nolte) that has always had a successful career as coach of Western University is facing the threat of his first ever losing season. He has to find a way to get his team back on a winning streak, even if it means finding new and better players. Nick Nolte does a spectacular job as the coach, but that's not the only reason that "Blue Chips" is such a realistic and great basketball movie. If you're familiar with NBA basketball, you'll see a lot of players that you know from today's game such as Penny Hardaway and Shaq. You'll also see other basketball legends such as Larry Bird and Bob Cousy. When it's gametime, it's as realistic as a movie can get. It has powerful coaching, spectacular defensive and offensive movies, the roaring crowd, and even the press conference after the game. "Blue Chips" has more drama in it than just about any basketball movie ever made. If you'd like to see a realistic basketball movie, I recommend getting "Blue Chips." It won't let you down. NOTE: That was my Amazon review from the year 2000. It's definitely one of the better basketball movies, and easily Shaq's best, although it doesn't really feature him.
Jason Owens
Super Reviewer
Bob Cousy shooting free throws is reason enough for three stars. The other one is for Nick Nolte and Shaq.
I dislike Nick Nolte's character in this basketball game movie because of his face acting and plenty of coarse languages are terrible.
Dean McKenna
Super Reviewer
Blue Chips Quotes
There are no approved quotes yet for this movie.