Freak Talks About Sex (Blowin' Smoke)
(1999)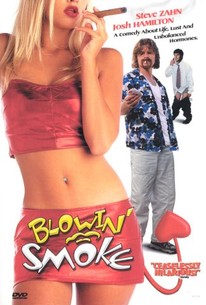 AUDIENCE SCORE
Critic Consensus: No consensus yet.
Movie Info
Freak (Steve Zahn) is a crude-talking, would-be ladies' man who can't understand why his unrefined, sex-fixated rants don't have single women lined up at his door. David (Josh Hamilton) is a contemplative college graduate with a low-paying, low-demand job at the mall who can't understand why his career path seems so cloudy. To escape the uncertainties of a world (Syracuse, N.Y.) that they can't decipher or conquer, they repair to the basement where they partake of the titular smoke (cannabis, of course), dream their dreams, and give voice to their unrealized ambitions. David lusts for an underage co-worker and, later, a former classmate who is now a topless dancer (and married to a dangerous man). Freak, meanwhile, is in pursuit of women and pot, but in no particular order.
Critic Reviews for Freak Talks About Sex (Blowin' Smoke)
There are no critic reviews yet for Freak Talks About Sex (Blowin' Smoke). Keep checking Rotten Tomatoes for updates!
Audience Reviews for Freak Talks About Sex (Blowin' Smoke)
[b][size=5][color=brown]FREAK TALKS ABOUT SEX (1999)[/color][/size] [img]http://upload.wikimedia.org/wikipedia/en/b/be/Freak_Talks_About_Sex.jpg[/img] [color=red][i]"Freak Talks About Sex", je film koji se pojavljuje i u video verziji pod imenom "Blowin' Smoke" (a da vas još više zbunim, radni naziv mu je bio "Syracuse Muse"). Snimljen je 1999 godine, a u glavnoj ulozi se pojavljuje Steve Zahn zajedno sa Josh Hamiltonom. Ceo film je snimljen u mestima Auburn i Syracuse, u državi New York. Ovo je donekle filozofski film o ljubavi, seksu, životu posle koledža, posebno o životu u gradu koji nije metropola... kao što je Syracuse. Dave Keenan (Josh Hamilton) je zbog slomljenog srca otišao u pustinju Arizone, ali kada taj potez nije urodio plodom, vraæa se kuæi. Iako ne uživa u poslu koji je našao u prodavnici, ostaje i dalje u status quo poziciji dok su mu kola pokvarena, bivša devojka odlazi u velegrad i èeka da joj se on pridruži, devojka s kojom radi se zaljubljuje u njega... Sreæom njegov najbolji prijatelj Freak (Steve Zahn) je uvek tu da se druže i "duvaju" marihuanu dok pljušte filozofske observacije uz smeh... Film koji je u svakom sluèaju vredan pogledati! A posebne zasluge tome pored glumaca pripadaju i reziji Paul Todisco-a. Ocena 6/10.[/i][/color][/b]
Freak Talks About Sex (Blowin' Smoke) Quotes
There are no approved quotes yet for this movie.