Blood Beach
(1981)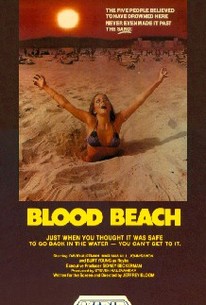 Movie Info
Sun-worshiping Californians are disappearing by the droves at a popular beach hangout, and a pair of extremely gruff detectives (John Saxon and Burt Young) grumble their way through the case until the real culprit is discovered... it seems a giant burrowing sand-monster with a taste for well-tanned human flesh has set up house beneath the surface and has been partaking of beach bums and bunnies, sucking them down to a nasty (but mostly unseen) death. The creature is kept completely concealed until the final minutes, but its triumphant arrival reveals the real reason the filmmakers kept it hidden so long: the dreaded beast looks like a giant artichoke! The potential for campy fun in this premise is defeated by a completely straight, plodding detective story, but at least Saxon and Young turned in enjoyably cranky performances before picking up their checks.
Critic Reviews for Blood Beach
All Critics (7) | Fresh (0) | Rotten (7)
I, personally, wanted more from it or at least for the film to have a scarier, vicious looking monster and not one that looked like it belonged in a green house.
Let's just say that my favorite scene is where a rapist has his you-know-what eaten by the bloodthirsty beach.
This movie sucks! (Unfortunately, you'd have to see the movie to get that joke...)
Audience Reviews for Blood Beach
Blood Beach is an awful horror film that relies on a poorly written script and poor directing. Add to that a cast that really don't have anything to offer in their performances. This is a very boring film that just fails to be entertaining and fun. We never get to see the monster that lurks beneath the sand, and you are left wanting more out of the film. Unfortunately, the film's script is so limited by poor writing, that there never is anything to grab your attention. Blood Beach is an awful B movie that should have been fun; instead it just fails in terms of story, acting, scares. This is laughably bad, and it shouldn't have been. There might have been potential of making an effective monster film here, but it was just boring with nothing to keep you interested. Blood Beach is not worth seeing, and you should seek out a far better movie than this piece of trash. Avoid it, as you'll be bored with how its ideas are being presented on-screen. This film is just a collection of poor actors acting out awful material, and the result is a mess that should be left ignored. I had high hopes that this one would be mindless fun, but it was just a bad movie that wasn't even in the "so bad, it's good" category. Don't waste your time, Blood Beach is poorly executed and it just fails to entertain the viewer looking for monster mayhem. Check out other genre films, you'll be glad you did. This just makes some of Corman's worst efforts look great by comparison. Skip it as you'll save yourself the time.
½
Not bad, little cheapo horror.
Anthony Valletta
Super Reviewer
Blood Beach Quotes
There are no approved quotes yet for this movie.