Blazing Saddles
(1974)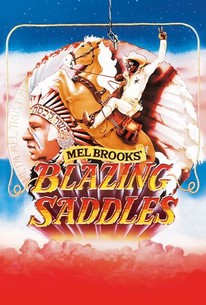 TOMATOMETER
AUDIENCE SCORE
Critic Consensus: Daring, provocative, and laugh-out-loud funny, Blazing Saddles is a gleefully vulgar spoof of Westerns that marks a high point in Mel Brooks' storied career.
Movie Info
Vulgar, crude, and occasionally scandalous in its racial humor, this hilarious bad-taste spoof of Westerns, co-written by Richard Pryor, features Cleavon Little as the first black sheriff of a stunned town scheduled for demolition by an encroaching railroad. Little and co-star Gene Wilder have great chemistry, and the delightful supporting cast includes Harvey Korman, Slim Pickens, and Madeline Kahn as a chanteuse modelled on Marlene Dietrich. As in Young Frankenstein (1974), Silent Movie (1976), and High Anxiety (1977), director/writer Mel Brooks gives a burlesque spin to a classic Hollywood movie genre; in his own manic, Borscht Belt way, Brooks was a central player in revising classic genres in light of Seventies values and attitudes, an effort most often associated with such directors as Robert Altman and Peter Bogdanovich . Some of this film's sequences, notably a gaseous bean dinner around a campfire, have become comedy classics. ~ Robert Firsching, Rovi
News & Interviews for Blazing Saddles
Critic Reviews for Blazing Saddles
Audience Reviews for Blazing Saddles
½
There are a few moments here and there that made me laugh out loud, but on a whole this raunchy comedy shoots in every direction with a bunch of silly, hit-or-miss gags whose punch lines we can see from miles away - and also, what the hell is so funny about people farting?
Carlos Magalhães
Super Reviewer
An African-American sheriff protects a Western town threatened by a railroad expansion. Let's take a look at some of the bits in this film. First, the bad guys want to discredit the sheriff, so they employ a prostitute to seduce him. She does, but because black men have large penises, she is grateful for their night of love-making and doesn't threaten his honor. Second, the sheriff outwits the bad guys by dressing up as a bellboy, who goes unnoticed because black people are meant to be in servile roles. There's no doubt that there's a lot of satire here, but the film nonetheless commerces in racial stereotypes in ways that I find uncomfortable. Rather than finding the film funny, I found its social critique pedestrian, and while making fun of racism is good, repeating racial stereotypes can be dangerous even under the glass of satire. Perhaps if I had seen this film when it was first released, I would have found it valuable, but now I find it difficult to recommend. Overall, with uncomfortable racial politics, i don't think this film hits the mark.
Jim Hunter
Super Reviewer
Though it may not have the cinematic output of his 1968 hit "The Producers",writer-producer-director Mel Brooks scored one of the biggest hits of the era. "Blazing Saddles" not only put Mel Brooks on the Hollywood map,but cemented his status as one of the great comedy directors of all time. Mel Brooks in 1974 was on a box-office rollercoaster scoring two of the biggest hits of that year. "Blazing Saddles" was a hilarious take on the Hollywood Western while his other smash "Young Frankenstein" was a hilarious take on the monster movies of the 1930's. "Blazing Saddles" at the time of its release was shocking and pointed-with its mixture of surrealism,slapstick,and groundbreaking vulgarity throughout,this was Mel Brooks' finest influential film that went on to become one of the top ten highest grossing films of 1974. Despite its hackeyned setting-the Old West-and it's 1970's veneer-hip gags about race and sex-it stands proud as one of his most brilliant works of his career (Mel Brooks was not only the 1950's comedy writer for "The Milton Berle Show",but Mel Brooks was one of the creative writers behind the 1960's television series "Get Smart") "Blazing Saddles" nods to the zany comedy of the Marx Brothers and the slapstick parody of The Three Stooges,but owes a great deal to the deranged, parodic, reference-obsessed humor of MAD magazine,Brooks's film takes on that tradition-sight gags where Klansmen and Nazis wait in line to join an 1870's lynch mob, oxen with YES or NO painted on them, verbal references to other movies ("You'd do it for Randolph Scott!")-and puts it into the cinema for the first time. In doing so, not only it did spoof on Randolph Scott,but it spoof other Western greats like Gary Cooper and John Wayne,not to even mention it spoof Clint Eastwood and James Stewart. "Blazing Saddles" influnced the Zucker Brothers, the Wayans ,and other imitators,and hence invented a genre that still holds up today. The film was an extended riff of Gary Cooper's "High Noon",but its genius lies in being more than just a parody,"Blazing Saddles" adds additional layers to the comedic plot,most notable of which is the twist that the new sheriff is black played by Cleavon Little(whose career peaked with this film)who beat out Richard Pryor for the role of Sheriff Bart,and who is supported by an almost restrained Gene Wilder(whose career took off after this movie,and won the starring role in Mel Brooks' "Young Frankenstein"). "Blazing Saddles" had a hilarious cast ensemble that included comedy greats Harvey Korman, Madeline Kahn, and Dom DeLuise, and former NFL-great Alex Karras not to mention putting in actors that were known for starring in various Westerns like Slim Pickens, Dub Taylor,David Huddleston, Claude Starr Ennis, Jr., and Jack Elam. And has a cameo appearance by Count Basie. The movie upon its general release is laced with the usuge of racial words,not to mention vulgar sexual references throughout(the scene where Cleavon Little's sheriff Bart tells Madeline Kahn, "Excuse me while I pull this out!" is hilarious as it gets)not to mention the film's scene of cowboys eating beans around the campfire is the funniest ever. The phenomenal success of "Blazing Saddles" started a revolution in what was to be comedy,and set the tone for what was to come. That success almost produced a sequel which Warner Brothers was set to do two years after its release,but it did not come true. However, Mel Brooks went on to do "High Anxiety", "Silent Movie", the hilariously funny as hell "History of the World: Part 1",and his spoof on Star Wars "Spaceballs"........ After its general release, "Blazing Saddles" became a HUGE cult following as it became part of special midnight showings throughout the country for late show viewing,and to this day it still continues to be seen in theatres as part of that(it is second to 1975's "The Rocky Horror Picture Show" as the longest running theatrical showing of a film in existence). From the local ad: "The movie Clint Eastwood and John Wayne REFUSED to make!"
Mister Caple
Super Reviewer
Blazing Saddles Quotes
There are no approved quotes yet for this movie.