Blades of Glory
(2007)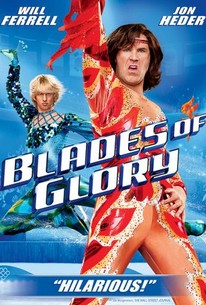 TOMATOMETER
AUDIENCE SCORE
Critic Consensus: Thanks to the spirited performances of a talented cast - particularly Will Ferrell and Jon Heder as rivals-turned-teammates -- Blades of Glory successfully spoofs inspirational sports dramas with inspired abandon.
Movie Info
Will Ferrell, Jon Heder, and Will Arnett headline this high-concept comedy concerning two male figure-skating rivals aching to compete despite having been banned from the sport. Their medals stripped after getting into a highly publicized fight at the World Championships, star figure skaters Chazz Michael Michaels (Ferrell) and Jimmy MacElroy (Heder) are barred from ever competing in the sport again. Upon discovering a loophole that will allow them to perform together in the pairs figure skating category, the two athletes determine to put their differences aside in order to pursue their gold medal aspirations. Amy Poehler, Jenna Fischer, Craig T. Nelson, and Rob Corddry co-star. ~ Jason Buchanan, Rovi
News & Interviews for Blades of Glory
Critic Reviews for Blades of Glory
Audience Reviews for Blades of Glory
½
Truly funny, but a bit overwrought.
Christian C
Super Reviewer
Chazz: Troubled childhood? If you consider a 9 year old kid with a 35 year old girlfriend troubled.  "Kick Some Ice" Blades of Glory has been a movie that I had very little interest in ever watching. What with Jon Heder, who I normally hate, and a plot that revolves around figure skating; I never really figured it had a whole lot to offer. I finally checked it out though, and I was completely wrong. While this is no great achievement, it is a movie that I really loved. It's pure fun from start to finish and that's coming from somebody that never even wanted to see this movie to begin with. Two men's figure skating rivals, Chazz Michael Michaels and Jimmy MacElroy are two of the best in the sport. While competing at the world championships, they end up tying for the gold medal. While on the podium, the two get into a fight which results in them being stripped of their medals and also prohibited from ever being able to compete in the sport they both love. After a few years one of Jimmy's biggest fans tells him that he can still compete, but it has to be in doubles. So through some weird meet up, Chazz and Jimmy join together as a team to try to smell the gold once again.  I have to admit to being a big Will Farrell fan. I understand that some can't stand the guy, but I for one love his delivery in his movies. His performance as Chazz is one that really brings back memories of his performance as Ricky Bobby. Both are done in sports that a lot of people don't really give a shit about, and his character in both is very egotistical. As a Will Farrell fan, this movie stands out to me as one of my favorites he's ever done, and his ridiculous performance as Chazz is one of my favorite performances from him ever.  Blades of Glory has a hell of a lot more going for it then I could have ever thought. It's comedy won't be for everyone, but if it fits your taste, you'll love it. There's a lot of great satire of the sport of figure skating just as there was in Talladega Nights. The film also has a wonderful and big supporting cast including Jenna Fischer, William Fichtner, and Craig T. Nelson. Blades of Glory is definitely worth a shot because if you don't over critique it, you'll be in for a really fun viewing experience.
Melvin White
Super Reviewer
½
Talladega Nights is so much better. This movie has such a great cast but the film makes (almost) no attempt at making the characters likable, it has no specific target audience and is sometimes more gross than funny. I loved the chemistry between ferrel and heder but the movie itself is just a mess.
Directors Cat
Super Reviewer
Blades of Glory Quotes
There are no approved quotes yet for this movie.