The Black Stallion
(1979)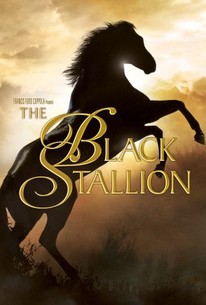 The Black Stallion Videos
The Black Stallion Photos
Movie Info
While traveling with his father, young Alec becomes fascinated by a mysterious Arabian stallion that is brought on board and stabled in the ship he is sailing on. When the ship tragically sinks both he and the horse survive only to be stranded on a deserted island. Alec befriends the horse, so when finally rescued both return to his home where they soon meet Henry Dailey, a once successful trainer. Together they begin training The Black to race against the fastest horses in the world.
News & Interviews for The Black Stallion
Critic Reviews for The Black Stallion
Audience Reviews for The Black Stallion
With a terrific visual treat, Carroll Ballard's The Black Stallion, is a interesting film, that show a friendship between men and the wild nature. The absence of speech, in the first scenes of the film, it's a very good way, to the audience see, slowly, the construction of an unlikely amity. But, when the character Alec (Kelly Reno) meet Henry (Mickey Rooney), the movie begin stay boring, and make some members of the audience don't want to see more The Black Stallion. Anyway, in the finals scenes, the film return to be a nice entertainment. With a dedicated direction, amazing photography by Caleb Deschanel and captivating acting by Kelly Reno and Cass Ole.
Lucas Martins
Super Reviewer
I saw this movie yesterday. What a bunch of good memories. I loved the art put on it by Francis Ford Coppola. It's a beautiful movie in every aspect, specially the story and photography. Almost a silent movie but it's what adds more beauty to some scenes, specially that when the boy feeds Black on the beach. Fantastic. It's a classic and sure will remain as that for the rest of times. For new viewers it could be a little slow and out of date, but you should remember that this was the first adaptation of Walter's novel.
Sergio Garcia
Super Reviewer
½
The black stallion is about a boy and horse that gets stuck on a far away island. When the boy realizes that there will not be any one to help them for a while. At first the hors a wild one but the boy tamed the horse with his magic tounch with animals. Over time the bond between the kid and horse became so close that when boy was going to get off the island he would not go without the horse. When he gets back city He talks a man into taking the bond that the boy and horse have to the racing world. Will the boy win first prize or loose be big. Pros Good acting and plot. Really moving. Shows how an animal has an impact on human being. Con The beginning of the film was lacking and has no exciting happening in first 12 minutes.
erika bruhns
Super Reviewer
The Black Stallion Quotes
There are no approved quotes yet for this movie.