Bite the Bullet
(1975)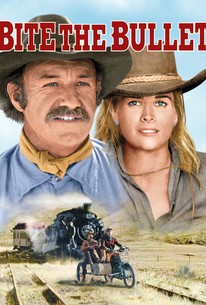 Movie Info
Fast-paced and episodic, this exciting western adventure chronicles a 600 mile cross-country horse race. The stories of the individual racers unfold as they gallop their sturdy steeds across the rugged, unforgiving terrain. The cinematography is exceptional and the stories move right along.
Critic Reviews for Bite the Bullet
Audience Reviews for Bite the Bullet
½
A thrill ride from start to finish. Even if you are not fond of the Western genre, you will probably enjoy this film about a grueling horse race across brutal terrain.
Anthony Valletta
Super Reviewer
At the beginning of the 1900's a horse race across the American West is the hub this tale spins on, it's spokes a good cast of charismatic regulars. But director/writer Richard Brooks has a little more on his mind than simply a horse race and those liberal causes are what the piece is really about. Racism, the humane treatment of animals, feminism, the humane treatment of humans, all that's missing here is a scene of hippies passing a joint while a Joan Baez song plays. If you can get pass or forget the "let me tell you something" tone of the piece, you've got a nicely done oater.
Kevin M. Williams
Super Reviewer
½
"Another one bites the bullet, another one bites the bullet; and another one gone, and another one gone; another bites the bullet!" Man, that's a lazy reference, but then again, the song was a little lazy to begin with, though not necessarily when this film came out, because it's somehow older than the song in question. You know, I was wondering why Gene Hackman retired a whole decade ago, if he did, in fact, quit because of his age, but he was getting up there back in 1975, so at any time, he might really bite the bullet. Yeah, if this film's title is a metaphor for death, then it's a little more comprehensive than "bite the dust", although it might just be telling us that Gene Hackman is so awesome that he can catch a bullet with his teeth. To be an old dude who has never been young, Hackman is still a man I wouldn't want to cross, unless, of course, I was Superman or something. In retrospect, it is a little hard to take Hackman all that seriously in this film, when he was about three years away from getting his butt kicked by a flying alien in tights, but make no mistake, in this film, he's a good deal more groovy than Queens' "Another Bites the Dust"... if not the term "groovy". Of course, the film isn't too shabby either, although, unlike Hackman, it can get a little cheesy. There is the occasional cheesy set piece to plague filler, while dramatic material goes plagued by some histrionics, or at least dramatics which feel histrionic under the influence of a rather sentimental atmosphere. These consistently unsubtle and occasionally slightly cloying sentimental atmospherics reflect an overambition, until laziness is reflected in atmospheric dry spells, which dull down momentum in a film that is slow enough without a certain chilling quietness that blandly meditates upon storytelling a little too much. The slow spells at least allow you to meditate upon the familiarity of the narrative itself, because even though this is a '70s western, it feels a little too eager to dig up '60s formulas to plotting and characterization which could have at least been meaty if it was to be conventional. With its memorable characters and certain worthy dramatic themes, this project could have molded a juicy narrative, but the story concept, as a minimalist character study that is highlighted by some kind of an extensive segment, is ultimately lacking in consequence, but evidently not material. Running 131 minutes, this film of limited consequence still goes dragged out, with excess filler and material that, rather than livening things up, allows you to further meditate upon things like the natural shortcomings and sentimentality, through all of the genuinely strong aspects. The film opens reasonably strong, sheerly in feel, alone, and throughout the body is moments in which the palpable ambition truly delivers, but at the end of the day, the ambition mostly stresses the shortcomings, consequential and natural, until the final product ends up losing so much momentum that is slips shy of rewarding. That's a shame, as this film could have really been something, yet as things stand, it endears in spite of its flaws, partly with a certain artistic taste. Like I said, there's a certain flavor of the '60s left in this '70s western, particularly in a score by the great Alex North that, despite conventions and sentimentality, is lovely in only slightly coloring up '60s sensibilities with scoring advancements that were beginning to come to form in the '70s. Harry Stradling Jr.'s cinematography is also lovely, if a little dated, with flat spells that are broken up by a realized palette which anchors the beauty of certain nifty visuals that are established by near-immersive art direction by Robert Doyle. There is indeed a certain immersion value even within the film's style, subtle though it may be, and when it comes to substance, no matter how thinly or formulaically it goes handled, it carries a potential that is reflected in the film carrying wit and dramatic elements as a portrait on man's interactions with his environment and his peers, anchored by memorable characters who are themselves anchored by memorable performances. There's not too much material to this film, therefore there's not too much too the performances, but charisma is found across the board, with solid chemistry and dramatic highlights that do a lot to define the heart of this colorful human drama. Leading man Gene Hackman is particularly charming and genuine in his portrayal of a good-hearted rider seeking respect, as well as the respectable, which leaves Hackman to all but carry the film as an audience avatar who adds to the intimacy of the drama. Richard Brooks' direction is arguably most instrumental in establishing a sense of intimacy, which is ironically challenged by ambitious sentimentality and limp atmospheric cold spells, yet is adequately sustained by a certain realization to the plays on anything from decent action to subtly thoughtful dramatic highlights, if not haunting visuals, that just about grip in their shining a light on what could have been. Again, this film could have gone a pretty respectable distance, and although it ultimately falls short of doing so as often as it probably should, it gets there enough times for the final product to compel the patient just fine. Bottom line, there's something a little minimalist about this dramatically promising story, and it grows harder to deny that the more sentimentality, dry spells and excessive dragging slow momentum, to the point of holding the final product shy of a rewarding state, flirted with enough by lovely scoring and visual style, some worthy story elements, strong performances - particularly that of Gene Hackman - and inspired direction to make "Bite the Bullet" a decent and sometimes gripping western drama, despite lost potential. 2.75/5 - Decent
Cameron Johnson
Super Reviewer
Bite the Bullet Quotes
There are no approved quotes yet for this movie.