Bird on a Wire
(1990)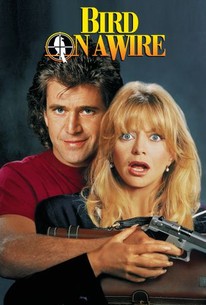 Movie Info
The can't-miss teaming of Mel Gibson and Goldie Hawn is squandered on a clumsy, illogical romantic melodrama. Running across her old boyfriend Gibson at a Wisconsin gas station, Hawn is astounded that he seems not to recognize her. How could she have known that Gibson was put into the Witness Relocation Program after testifying against a homicidal mob boss (say, don't they usually alter your appearance when they put you in that program?) Curious over Gibson's furtive behavior, Hawn unknowingly sets herself up as a target for the bad guys. The whole affairs culminates in an after-hours showdown at a zoo (a plot device vastly improved upon in the 1996 Arnold Schwarzenegger vehicle Eraser). While Bird on a Wire admittedly has its moments of enjoyment, most of the film is on a par with Gibson's embarrassing, homophobic scene with a pair of epicine hairdressers. And whoever heard of the Chinatown section of Racine, Wisconsin?
Critic Reviews for Bird on a Wire
Audience Reviews for Bird on a Wire
A cable tv staple that's not as much fun as you might think.
Tim Salmons
Super Reviewer
...on a cloudy Sunday afternoon. If you are looking for something else, don't watch it. On the other hand, if you are looking for some laughs, some actions scenes (on the edge of the impossible, a.k.a. James Bond scenes) and some romance, you got it. Sadly, in a small amount. You could say, that if there wasn't Mel (with his jokes) and Goldie (with hers legs), the movie probably sucked. Thanks to them, this movie still deserves an o.k. grade.
Cassandra Maples
Super Reviewer
½
Hawn cheatin' on Russell?
Lenny Muggsy
Super Reviewer
Bird on a Wire Quotes
There are no approved quotes yet for this movie.