Bionicle 3: Web of Shadows
(2005)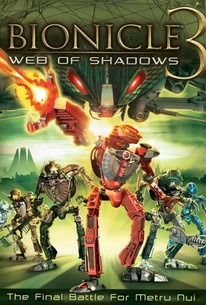 AUDIENCE SCORE
Critic Consensus: No consensus yet.
Movie Info
A rescue mission to Metru Nui goes awry when the Toa arrives to discover the once great city overrun by evil arachnid web-slingers in this action-packed feature-length animated adventure. Before they can build their new home on Mata Nui island, the six Toa warriors must first return to Metru to rescue a stranded Matoran from the dark forces that bind him. After discovering that the town has been claimed by a vicious gang of spider-like fiends known as Visorak, the Toa are transformed into mysterious beasts known as Toa Hordika. Despite the unlikely odds of escaping with their lives -- much less completing their mission -- the Toa Hordika muscle on with their mission bravely in hopes of building a new home in a new land.
News & Interviews for Bionicle 3: Web of Shadows
Critic Reviews for Bionicle 3: Web of Shadows
Audience Reviews for Bionicle 3: Web of Shadows
½
Just as good as 2, if not better. Surprisingly good movie. Enjoyable for any binicle lover. :fresh:
Bionicle 3: Web of Shadows Quotes
There are no approved quotes yet for this movie.