Big Momma's House
(2000)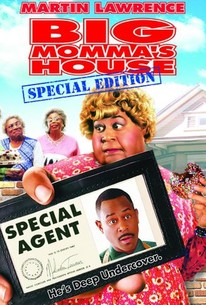 Movie Info
In this comedy, a cop assumes a new identity in his valiant battle against crime: an elderly grandmother! Malcolm Turner (Martin Lawrence) is an FBI agent who is a master of disguise and will stop at nothing to get his man. When a bank robber escapes from prison and goes on a violent crime spree, Malcolm is assigned to bring him in. The thief's girlfriend Sherry (Nia Long), who is also the mother of his child, lives in a small Southern town, and Malcolm plans to set up a stake-out in the house across the street from Sherry's. However, the house is owned by Big Momma (Ella Mitchell), an older woman with a sharp tongue and no patience for back talk, and when Big Momma has to leave town, it leaves her house suspiciously empty. Determined to maintain his cover, Malcolm disguises himself as Big Momma, and now has to convince Sherry (and everyone else in the neighborhood) that Big Momma's still in town. Big Momma's House gained considerable pre-production publicity when Lawrence fell into a coma while jogging in a heat wave before the film's start date; Lawrence claimed that he was trying to lose weight to fit more comfortably into his character's "fat suit." ~ Mark Deming, Rovi
News & Interviews for Big Momma's House
Critic Reviews for Big Momma's House
Audience Reviews for Big Momma's House
½
Martin Lawrence is hysterical throughout, but the film does no good with just him carrying the load. Big Momma's House is plain and simple and nothing too spectacular or even hysterical. 3.5/5
Eugene Bernabe
Super Reviewer
A painfully stupid comedy starring Martin Lawrence, Big Momma's House is one of those comedies that fails to deliver on good comedy, and opts to deliver a stupid formula of tasteless humor for the viewer. The film is awful with a poorly written script, poor cast and poor directing. Big Momma's House is a laugh free comedy that tries too hard at making you laugh with its stupid attempt at humor, which doesn't pay off. The use of comedy here is strained, and the filmmakers clearly don't know how to create effective on-screen jokes. For that this film fails. The film is definitely not worth your time as there's nothing memorable or good about this film. The film is a poorly constructed comedy that delivers stupid, painful humor that just doesn't work. Add to that a cast that clearly don't know what they're doing, and you have a horrible comedy on your hands. Martin Lawrence has made some bad films in the past, but Big Momma's House is one of his worst. This is a film that really doesn't have any originality to it, and it's a painful experience to watch. I hated this film, and it is one of the worst comedies that I have seen. Skip this film, as there is nothing funny about this film. The film is just another run of the mill laugh free comedy with a bad cast. Watch something better. If you're looking for something funny and memorable, you won't find it here. This film was horrible, and definitely not worth your time.
½
This movie is one bad joke stretched out to an hour and a bit. Lawrence im pretty sure you can do better, dont listen to Eddie Murphy!
Directors Cat
Super Reviewer
Big Momma's House Quotes
There are no approved quotes yet for this movie.