The Big Hit
(1998)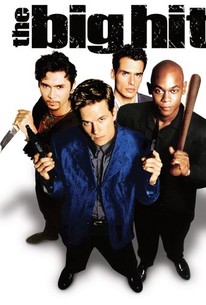 TOMATOMETER
AUDIENCE SCORE
Critic Consensus: The Big Hit seeks to blend the best of Hong Kong and American action cinema, but ends up offering a muddled mush that mostly misses.
Movie Info
Mark Wahlberg stars in this goofy-fun Hollywood-Hong Kong action comedy as a sweet-natured hit man who falls in love with a kidnapping hostage and ends up in a death struggle with a former partner.
Critic Reviews for The Big Hit
Audience Reviews for The Big Hit
Melvin: The truth is, I can't handle the idea of her not liking me. I can't handle the idea of ANYBODY not liking me. Cisco: Hey Melvin, the hundred or so people you've killed in the last five years, more than likely have families that don't think too highly of you. I Always have fun watching this movie, a hit-man comedy that is self-aware, never taking itself seriously, and full of some cool action. Mark Wahlberg is a "nice" hitman, who just wants everyone to be copacetic. He has money problems due to his fiance and his bloodsucking girlfriend. Other subplots involving the discovery of masturbation, acceptance of different religions, and kidnapping, what a joy. The action scenes go back and forth between very cool and ridiculously over the top. More random humor to follow as well (all signs point to the tracebuster-buster). Cisco: Well ain't that a bitch... All I wanted to do was to sail my boat, man, you know? Navigate by the stars, see dolphins race alongside, you know, maybe even kill a few of them. The cast also includes Lou Diamond Phillips, Christina Applegate, Avery Brooks, and Elliot Gould, further fueliing the absurdity. Paris: What would you do to someone, who was fucking with you in your own house? Cisco: I'd bust some caps! My absolute favorite Guilty Pleasure movie, even more so than Starship Troopers. Melvin Smiley: Technically, you can call me a hitman. Keiko Nishi: Really? A hitman? Does that pay well? Melvin Smiley: Oh of course. I make a killing.
Aaron Neuwirth
Super Reviewer
Hollywood failing once more in trying to replicate Hong Kong action/crime flicks.
Tsubaki Sanjuro
Super Reviewer
½
Hey Hey! Now that Ive FINALLY got the DVD, I can do a proper review! Man, they dont make them like they used to. All the overblown, adrenalin charged action scenes, the grace and beauty not just in the choreography but in the number of bullets and explosions one can throw in. Those were the good ole days, and along with movies like Face Off, Broken Arrow and Replacement Killers, this sorta ventures into the Action/Comedy zone, and does pretty well, I loved it. I guess this is the movie which bought Mark Wahlberg into the action genre, playing the too nice hit man, in contrast to the devilish Lou Diamond Phillips, who was hilarious as the out of control killer. Aside from the director Kirk Wong (Crime Story), the movie was produced by John Woo and Wesley Snipes, so the action shines, and not too much fancy pants stuff, just some slick moves and fight scenes and interesting comedy moments, some which were stolen from other movies, but of course, who gives a F? im having too much fun watching it. And for all action/Hong Kong style fans, so would you.
The Big Hit Quotes
There are no approved quotes yet for this movie.