Big Game
(2015)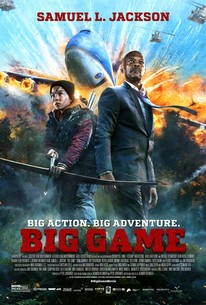 TOMATOMETER
AUDIENCE SCORE
Critic Consensus: Big Game's enthusiastic throwback vibe will appeal to fans of low-budget '80s action movies, but co-writer/director Jalmari Helander adds a level of smarts and skill that make it more than just an homage.
Movie Info
In the rugged countryside of Finland, a young thirteen-year-old (Onni Tommila) embarks on a traditional quest to prove himself by spending 24 hours alone in the wild, armed with only a bow and arrow. After witnessing a spectacular crash, he discovers the escape pod from Air Force One, containing the President of the United States (Samuel L. Jackson). When they realize a group of kidnappers is hot on their trail with the intention of taking the president, this unlikely duo must escape their hunters as they search for the American Special Forces team sent out to find them. (C) Relativity
News & Interviews for Big Game
Critic Reviews for Big Game
Audience Reviews for Big Game
A very safe film that doesn't attempt anything grand or epic, definitely a throwback to the 80s. The casting of Jackson might have been better had the film gone for the hard R rating instead of the please all rating we ended up with. The film has its moments and some of the chemistry is between the likable stars. I thought the film was fun and the filmmaker has a huge future in the action genre, some of the special effects scenes top some of Hollywood's lacklustre efforts. The film never forgets its characters and has a lot of fun along the way. You can do much worse than checking out this action film. 30/10/2018.
Brendan O'Connor
Super Reviewer
½
This is one of those films that we have about 10 a year where there is no real buzz or advertisment to the film but looks ok and that's what this film is, Just ok, It's corny and silly in a few places but it's more like a teen action film so it's allowed to be them things, There is a few shall we say different action scenes that were done pretty well, The effects were good too, Overall it's a big ish dumb ish fun ish action movie that's not going to be remembered or win any awards but it's a good way to kill an hour and a half plus I suppose you could call it an action film for all the family maybe.
Jamie Clarke
Super Reviewer
Another film where I'm honestly surprised that the audience's reception wasn't better than it was. Again, much like I mentioned in Let Us Prey, it doesn't really matter as long as I enjoyed it, but this was an easy to watch and really damn fun film to watch. It's a fun little tribute to old-school action films and their, sometimes, ridiculous and over-the-top stories about the president of the United States finding himself in danger with nefarious villains behind the evil deeds. Though the film does add its own unique little twists and turns and it's not strictly just a nostalgia trip. That's definitely the right way to do it. I honestly don't think I'd have much to say about this. I may not have been in love with the film, but it does over a real fast-paced and really entertaining action film. It's got a real good cast, Samuel Jackson definitely plays against type in this film, since the president is pretty much completely useless, the satire of which is not lost on me and pretty much anyone with an inkling of intelligence. It's not like they make a mockery of the United States, though they do get their shots in, but Samuel Jackson is definitely game and he does a real good job here with this role. It's not like the role has much depth, but it looked like Samuel looked inspired and he's always good whne he's inspired. Onni Tommila, Oskari, is also quite good here, even if his English isn't great, not that I can blame him for that. Him and Samuel Jackson have some surprisingly good chemistry and they're a good pair that you actually kind of want to see more of. I did like Oskari's character arc, as he's going on a hunting mission to prove he's mature enough to the people in his village. Oskari's father doesn't believe his son has the toughness necessary to achieve this mission, so he leaves a deer's head in the middle of a mountain in order to save his son the embarrassment of not being able to hunt an animal. This, taking place after he finds the president and decides to help him, motivates him to save the president of the most powerful nation in the world in order to prove his father wrong. It's actually a really good character arc when you really think about it. It definitely works. As mentioned, Onni and Samuel have great chemistry and it's such that you'd actually like to see them paired together again in a sequel. And, looking at how the film ended, it's definitely leaning in that direction and I'm actually really happy about that, if a sequel is on the way. The film might not have a tremendous amount of action, but I still enjoyed this a lot. It's a lot of fun, I wouldn't say that the film is really good, but I had a blast watching this. And it's this movie is less than 80 minutes long, so it's incredibly easy to watch and, honestly, parts of me wished that it was only slightly longer than that. I'm not complaining much, but that's the only one I can honestly think of at the moment. This is a good movie and I'd recommend it. Good stuff here.
Jesse Ortega
Super Reviewer
Big Game Quotes
There are no approved quotes yet for this movie.