The Big Doll House
(1971)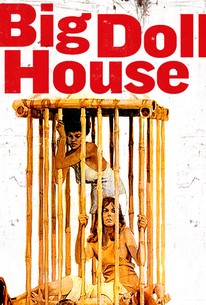 Movie Info
Worth the admission price in itself in The Big Doll House are the knock-down, drag-out fights between prisoner Pam Grier and sadistic guard Sid Haig. Beyond this guilty pleasure, however, the film is just another "babes behind bars" opus. Treated like excrement, the girls (all of whom appear to have had recent breast implants) plot a daring escape. Director Jack Hill is a specialist in this sort of sleazy fare, so there's very little waste footage during the climactic breakout. Whether the film is worth watching is entirely up to the viewer.
Critic Reviews for The Big Doll House
Audience Reviews for The Big Doll House
½
During the seventies, legendary producer and distributor Roger Corman started a company and began making exploitation films by the dozen. Thanks to incentives, many films were made in the Philippines during this time, most of them falling into different genres. Some were Blaxploitation films; others were simply gory road movies, and futuristic tropes. This film falls under the heading of "women in prison," and man does it deliver. Not based on any true events or information about women in the Philippine prison system, this film takes everything an audience might want to see and throws it onscreen. The women in question are all jailed for federal offenses which range from murder to drugs. Many are ruthless, some are hell-bent on escape, and others wait for the next chance to exert some swift violence against their captors. The women are also tortured under the direction of a masked man by their warden, Dietrich (Loder), which leads to a plot against the prison as well as an escape attempt. For what it is, it is very entertaining, and though much of this is unforgivably crude to some people, it's fun to watch. Everything about this film is so silly that it's absolutely sublime. The film boasts nudity by the boatload, torture though always tastefully done, mud wrestling, lesbianism, shower scenes, and gunplay as well. If you're looking for a classic film, starring Pam Grier in one of her first roles, and watch this, you are going to have to be rudely awakened. This is pure exploitative fun, and though it may not be in good taste to like these kinds of films, there's such a goofiness and self-awareness to this that it ingratiates the film to me. No matter what, this film will entertain you, because it's too perfect not to.
Spencer S.
Super Reviewer
The Big Doll House happens to be one of the really good "women in prison" exploitation classics, from none other than genre director Jack Hill and producer Roger Corman. It may be cheap on budget but damn is it ever entertaining. The ridiculous dialogue and acting combined with a really cheesy storyline that has every cliche in the book: lesbianism, mud wrestling, shower scenes, female torture, male torture by angry females... well, you get the idea. This is one of the best of the genre, for sure, with lots of nudity and even a bit part for Corman regular Sid Haig. AND, of course, the always lucious Pam Grier along with a host of other hotties. I very much enjoyed this one and the two follow-ups. The "sequels" had their share of problems, but from now on when I think of "women in prison" movies, The Big Doll House springs to mind.
Tim Salmons
Super Reviewer
I've never understood the appeal of the women behind bars genre, but this movie wasn't all that bad, not good, but not horrible.
The Big Doll House Quotes
There are no approved quotes yet for this movie.