The Big Chill
(1983)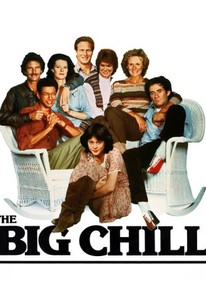 TOMATOMETER
AUDIENCE SCORE
Critic Consensus: The Big Chill captures a generation's growing ennui with a terrific cast, a handful of perceptive insights, and one of the decade's best film soundtracks.
Movie Info
A re-release of the 1983 classic. The gathering of old college friends for a funeral brings out their real personalities.
News & Interviews for The Big Chill
Critic Reviews for The Big Chill
Audience Reviews for The Big Chill
A lifeless and depressing movie that seems more interested in its songs than in creating a relatable plot (yet even if the soundtrack is great the lyrics simply don't reflect what we see on screen), forcing us to stay in the company of a group of unlikable narcissists.
Carlos Magalhães
Super Reviewer
A perfect hang-out film: one of the movies you revisit just to say hi again to some old friends. A far-fetched as all hell non-ending leaves a bit of a sour taste.
Kevin Cookman
Super Reviewer
Until the second half, this film is great. We get to know the characters and we start to understand the tensions that have long existed between them, the way this group of old friends reunited for one member's funeral has changed over time and may not be what it once was. The sense of loss is compelling, and the prospect for rediscovery and rebirth sucks you in, but in the end I walked away disappointed. I can't say for sure why, but everything seemed to get stagier as the ending approached, and aside from a pithy reality check from William Hurt's character, nothing really comes of it all. Some characters get closer to getting what they've wanted and struggled to find all these years, but mostly, it just fades away again, and not in any way that makes an impact or makes you think about this scene. I'm told that, as someone born in the 80s, this film isn't really for me - that it's something that Boomers identified much more with. It's searching for that dirty realism of Last Picture Show or a Raymond Carver story, the hard business of day-to-day life, but once the enticing exposition finishes, you realize that the stakes are pretty low. I was kind of wishing that they all find the stiff's long-lost treasure map or the draft of his novel, or something, but you get the sense that when the characters leave this place, though they'll realize how much they've changed since they were young, the time they spent here probably won't change them at all... and thus, in the end, the films lets you down, failing to provide that "and this is why it matters" punch in the gut that "small stories" have to.
Daniel Perry
Super Reviewer
The Big Chill Quotes
There are no approved quotes yet for this movie.