Big Bad Wolf
(2006)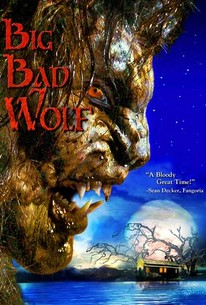 AUDIENCE SCORE
Critic Consensus: No consensus yet.
Movie Info
A wisecracking lycanthrope stalks a hard-partying group of college students in this full-moon comedy shocker featuring An American Werewolf in London's David Naughton and genre veteran Clint Howard. All they wanted was a fun weekend away from their parents and the pressures of school, but when these fun-loving teens cross the path of a werewolf that isn't afraid to speak its mind as he tears them limb from limb, they must find out who is behind the furry façade and put the beast down before it can claim any more lives.
Critic Reviews for Big Bad Wolf
Audience Reviews for Big Bad Wolf
Grade Z in every respect - terrible acting, unlikable characters, awful dialogue, misguided sense of humor, gloppy blood effects, "hey-it's-a-guy-in-a-suit" costuming, rigid facial prosthetics. The wolf creature from Evil Toons was more convincing (and yeah, he was a badly animated 'toon.) In the case of this low-budget horror story of a horror story, you get what you pay for.
Doctor Strangeblog
Super Reviewer
Just an all around crazy movie, not many werewolf movies have full on rape or have them fully aware and calling characters "pussy". While it has terrible production value, acting, and story, it's sort of got a bizarre sense of entertainment attached to it. The highlights are the blowjob scene and the revival of the villain from Kindergarten Cop. It's not a good movie by any stretch and is a complete disgrace to the genre, but definitely worth seeing and unintentionally hilarious.
Conner Rainwater
Super Reviewer
Had me laughing more then anything!
paganchild1979 pc79
Super Reviewer
Big Bad Wolf Quotes
There are no approved quotes yet for this movie.