Beyond the Poseidon Adventure
(1979)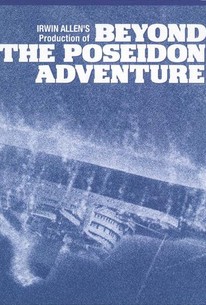 Beyond the Poseidon Adventure Photos
Movie Info
Irwin Allen attempts to recapture the phenomenal success of his The Poseidon Adventure by virtually re-capping the original storyline with a new set of faces. The luxury liner, turned upside down after being smashed by a tidal wave, takes about a few opening seconds of screen time. After that the film becomes a treasure hunt aboard the overturned vessel between salvage tug operators Mike Turner (Michael Caine), Wilbur Hubbard (Karl Malden), and Celeste Whitman (Sally Field) -- who are searching for cool, wet cash -- and Filthy McNasty bad guy Stefan Svevo (Telly Savalas) -- who is looking for a stash of hidden plutonium.
Critic Reviews for Beyond the Poseidon Adventure
Audience Reviews for Beyond the Poseidon Adventure
Not a bad sequel to the original film, this time a crew of people go back to try and get the contents of the vault. Good cast and story line.
I saw "The Poseidon Adventure" a few months ago and thought it was a great, classic movie. Therefore, when I found out that a sequel had been made, I couldn't wait to see it. Instead of several people taking a cruise on the luxury liner called the Poseidon, this time around, a few people headed by a captain (Michael Caine), board the capsized and upside down Poseidon in search of plutonium and gold. But it might not be as easy to find the riches and then get off the ship as they first think it will be. "Beyond the Poseidon Adventure" is a decent movie. It has good enough acting, decent special effects, and in parts it's somewhat interesting. However, it's not nearly as interesting or as suspenseful as the original was in my opinion. If you liked "The Poseidon Adventure," I recommend watching "Beyond the Poseidon Adventure," but I don't recommend buying it unless you absolutely have to have it so you can say you own both movies in the series. NOTE: That was my Amazon review from the year 2001. Terrible sequel.
Jason Owens
Super Reviewer
terrible followup to classic film
Beyond the Poseidon Adventure Quotes
There are no approved quotes yet for this movie.