Beware the Slenderman
(2018)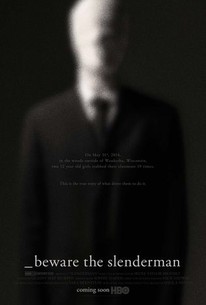 TOMATOMETER
AUDIENCE SCORE
Critic Consensus: Though it gets a bit lost in the details, Beware the Slenderman avoids exploiting its young subjects, instead providing insights into the looming dangers that lurk on the internet.
Beware the Slenderman Photos
Movie Info
BEWARE THE SLENDERMAN tells the story of the internet's elusive Boogeyman and two 12-year-old girls who would kill for him. Morgan Geyser and Anissa Weier lured their best friend into the woods, stabbed her 19 times, then set out on an odyssey to meet the tall and faceless man known online as Slenderman. Shot over 18 months with heartbreaking access to the families of the would-be murderers, the film plunges deep down the rabbit hole of their crime, a Boogeyman and our society's most impressionable consumers of media. The entrance to the internet can quickly lead us to its dark basement, within just a matter of clicks. How much do we hold children responsible for what they find there?
News & Interviews for Beware the Slenderman
Critic Reviews for Beware the Slenderman
Audience Reviews for Beware the Slenderman
Having had a preexisting interest in video games, and having played the game the documentary is based on firsthand, the first poster for Beware the Slenderman caught my attention. It centers on a case in Wisconsin where two 12 year old girls stabbed another girl 19 times because they thought the Slenderman was going to kill their families if they didn't. Hearing the kids and the court describe what happened in the woods, down to the bloody details, was extremely unsettling. It's not very often you come by documentaries that disturb on this level. What made it so interesting was the slow reveal towards why they were motivated to commit the crime. On the downside, there's something also equally unsettling about seeing the parents of these kids cry in front of a camera. Albeit, the court case itself was publicized in the media. Aside from being a very interesting subject, the film works best as promoting awareness for the mental illnesses it documents, while simultaneously showing us how easy it is to access horrific and graphic stories like the (mythical) Slenderman.
Kevin Mozulay
Super Reviewer
Beware the Slenderman Quotes
There are no approved quotes yet for this movie.