A Better Tomorrow II
(1988)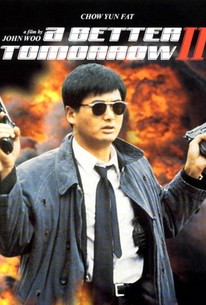 A Better Tomorrow II Photos
Movie Info
This sequel to Better Tomorrow 1 tells about the brother of a dead gangster who joins forces with a police officer and an ex-gangster to fight crime in Hong Kong. Dialogue is in Cantonese with English subtitles.
Critic Reviews for A Better Tomorrow II
Audience Reviews for A Better Tomorrow II
A train ride of emotion, ridiculous but brilliant action, combine together to create an explosively powerful and incredible piece of cinema. Following on from the first film, Ti Lung, Ho stars as the brother tasked with spying on a former Triad gang member, whilst his policeman brother continues to fight crime, against a new gang leader. In the end, they team up with the master Chow Yun Fat, to enact revenge on the gang for the death of Dean Shek's daughter. The plot is complex and much more intriguing than any Hollywood counterpart, allowing melodramatic, but powerful character development and arcs, which weave across the ninety minutes flawlessly, but slowly. There is some dependence on certain character's relationships, particularly between brothers Ti Lung and Leslie Cheung, from the first film and this may cause problems for viewers having not seen the first. But whilst it would be very advisable to watch the first film before this one anyway, the film manages to get past that problem on the whole. The action sequences are bigger than the first by a mile, and more stylised and sophisticated. Scenes when Chow Yun Fat falls backwards down the stairs whilst firing two handguns at once, and the final shootout show true Woo form, with superb choreography and direction from the Hong Kong master. However, the more important and impressive aspect of the film is the powerful connections between characters, brothers and brothers, friends and friends, enemies and enemies, and the themes and tones they invoke. Woo does this mainly in a visually stunning and striking way, combining some average cinematography techniques and turning the camera into a gateway of which to fling us into the shattering glass and bricks. The main character development is done less through the scripted speech, but the smiles and bows, and the chemistry on screen, invoked by Woo's directing abilities, in and out of action sequences. Just as good as the first installment, if not topped, Woo took a good formula and a great story and expanded it into a cult classic, and a fantastically entertaining and emotionally thrilling film.
Adam Kelly
Super Reviewer
"Are you OK?" is asked several times to people with white shirt soaked in their own blood. It's a big mess with sloppy jump cuts, rough dolly shots and the theme of brotherhood thrown in wherever it might fit. The ludicrous elements -- including a grief-stricken lunatic running around speaking in tongues amidst flying bullets and Chow Yun Fat happily putting on the coat his twin brother died in, with its bloody-bullet holes -- make it seem like brilliant HK high school students are trying to do a John Woo half-spoof, where every good guy goes joyfully to Hong Kong Valhalla. The final gunfight is equally ridiculous but it saves the whole movie with a few moments of great choreography and spurts of red flying in and out of the frame.
Adam Mahler
Super Reviewer
One of the greatest action classics of the 1980's. An unforgettable and adrenaline-pumping action-thriller. IT has one of the most outrageous, chaotic and massively brutal final showdowns ever put on film with a massive and insane body count. A masterpiece plain and simple. An amazing and absorbing action extravaganza. An action ride that tops the gun-fights and explosions of the first as well as it's dramatic aspect and character development.
A Better Tomorrow II Quotes
There are no approved quotes yet for this movie.