A Better Place
(1997)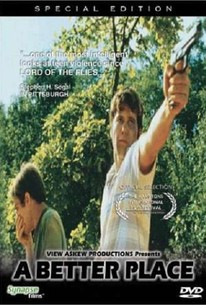 AUDIENCE SCORE
Critic Consensus: No consensus yet.
Movie Info
A young man discovers that friends can quickly become enemies -- and the transformation can have dangerous consequences -- in this independent drama. Teenaged Barret (Robert DiPatri), still coming to terms with the death of his father, moves with his mom to a new community; Barret doesn't get along with the students at his new school and soon finds he's a social outcast. Ryan (Eion Bailey) is another student at the school who doesn't get along with his peers, and soon Barret and Ryan become close friends. But the longer Barret hangs out with his new friend, the more uncomfortable he becomes with Ryan's misanthropic views, and when Barret begins making friends with the students who once rejected him, Ryan's threatening words are translated into violent deeds. A Better Place was the first feature film from writer and director Vincent Pereira; the film was co-produced by Kevin Smith, a longtime friend who cast Pereira in small supporting roles in several of his films.
Critic Reviews for A Better Place
Audience Reviews for A Better Place
½
Having been friends with Vincent Pereira for a bit, I might be a little biased on my judgment of his film. I've tried to put that aside and be subjective, so let's hope I succeed. A Better Place isn't really the type of film you'd find in your average cinema. It's an intense and violent character study that doesn't really hold back. To me, the only thing that IS holding it back is its dialogue, at times. It's not bad, it's just hard to relate to characters who sound so similar to each other. That was my complaint with both Juno and Vulgar, but on the whole it isn't quite as bad as that. Its just that at certain moments I'm waiting for the characters to be, well, characters, with distinct personalities and ways of speaking. Maybe that's not always possible in storytelling, but I pick up on it occasionally. It doesn't affect the film too much though. I really enjoyed it on the whole and walked away from it with a nice perspective. To be succinct, it's a very solid film and definitely worth a watch.
Tim Salmons
Super Reviewer
½
A labor of love by Vincent Perreira and the entire View Askey (Kevin Smith's production company) crew. When a film has such a minuscule budget, a half-amateur cast and needs to be shot in 2 weeks, everything hinges on the writing. The results are mostly positive, but definitely a mixed bag. The film is the story of a teen who, after the death of his father, moves into a new town with his mother. He quickly befriends the local outcast, an intelligent, good-looking but decidedly misanthropic teen whose own past is marked by death and slowly but surely violence escalates and tragedy ensues. Eion Bailey is great in the role of the misanthrope. He sells every line of dialogue he is given (except for a monologue which, while well written, is entirely unrealistic) and generates true pathos during his downfall. The rest of the cast is serviceable at best. The film's biggest strenghts are the subtle, non-exploitative way it handles the always combustible issue of teen school violence in the U.S. There are no charicatures here, all of these kids are true characters with their own particular flaws. Individual scenes work beautifully, and the friendship between the two leads is no contrievance of the plot, but feels quite organic and real. The film's main weakness is its reliance on a structured plot and the occasional cliché to get the ball rolling and set things in motion. Some lines don't work, other scenes seem poorly directed and the film has a decidedly stagey tone that doesn't particularly suit it. Still, it is certainly a good piece of cinema and kudos to Perreira and company for actually making it, and having it turn out as well as it did.
A Better Place Quotes
There are no approved quotes yet for this movie.