Best Of Enemies
(2015)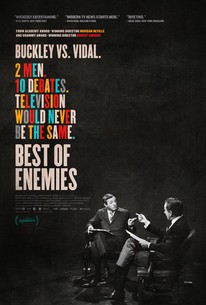 TOMATOMETER
AUDIENCE SCORE
Critic Consensus: Smart, fascinating, and funny, Best of Enemies takes a penetrating -- and wildly entertaining -- look back at the dawn of pundit politics.
Movie Info
In the summer of 1968, television news changed forever. Dead last in the ratings, ABC hired two towering public intellectuals to debate each other during the Democratic and Republican national conventions. William F. Buckley, Jr. was a leading light of the new conservative movement. A Democrat and cousin to Jackie Onassis, Gore Vidal was a leftist novelist and polemicist. Armed with deep-seated distrust and enmity, Vidal and Buckley believed each other's political ideologies were dangerous for America. Like rounds in a heavyweight battle, they pummeled out policy and personal insult-cementing their opposing political positions. Their explosive exchanges devolved into vitriolic name-calling. It was unlike anything TV had ever broadcast, and all the more shocking because it was live and unscripted. Viewers were riveted. ABC News' ratings skyrocketed. And a new era in public discourse was born - a highbrow blood sport that marked the dawn of pundit television as we know it today. (C) Magnolia
News & Interviews for Best Of Enemies
Critic Reviews for Best Of Enemies
Audience Reviews for Best Of Enemies
½
I've previously seen and enjoyed the documentary Gore Vidal: The United States of Amnesia, which spends some time talking about this big rivalry and televised political debate. Here is a documentary released two years later that dives more deeply into that debate and give a little biography about both Buckley and Vidal. As the tagline on the poster says, "Buckley vs. Vidal. 2 men. 10 debates. Television would never be the same." The filmmakers suggest that this directly led to the televised coverage of American elections today and the level of commentary that often falls into personal attacks rather than focus on the issues/policy/truth.
Byron Brubaker
Super Reviewer
An exciting analysis of the beginning of a major change in political journalism as it became a theater stage for egos, shown in this pivotal debate between two arrogant men who we can't deny were brilliant orators - even though I despise Buckley's political views and Vidal's aggressive ad hominem attacks.
Carlos Magalhães
Super Reviewer
With no televised debates between the presidential candidates in 1968, it was left to ABC who was desperately seeking an audience or any kind of attention really to make up for that by having Gore Vidal and William F. Buckley debate opposing viewpoints in the studio during the two political conventions that year. What the illuminating and snappy documentary "Best of Enemies" does well is provide behind the scenes information. The most surprising snippets involve fresh angles on the Chicago Democratic Convention which had already been so exhaustively covered and here go beyond just mentioning Gore Vidal, Arthur Miller and Paul Newman sharing a car.(I feel there should be a punchline there...) With a documentary just last year about Gore Vidal, the more revelatory parts in "Best of Enemies" involve William F. Buckley who in archival footage seems polite and eager to listen to different points of view on his television show, and at least until he is pushed too far in the debates with Vidal. At the same time, I do have certain bones to pick, not the least of which is the accusation that Vidal had ulterior motives for saying something unkind about Robert Kennedy. For Buckley, the documentary probably overstates his influence on the Republican Party when in fact he was might have just been in agreement with the more conservative Republicans in power.
Best Of Enemies Quotes
There are no approved quotes yet for this movie.